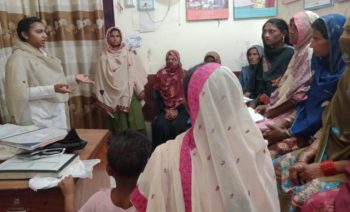 Marvin Parvez, from ACT member Community World Service Asia, speaking about the unprecedented situation caused by COVID-19 and its consequences for Afghanistan and Pakistan.
"According to my experience since the nineties, Asia and the Pacific are the regions where ACT has its strongest experience and capacity," states Marvin Parvez, Regional Director of Community World Service Asia (CWSA), adding: "But now, we are facing a global emergency and pandemic which we never had before." ACT asked him to highlight the situation in Afghanistan and Pakistan.
ACT: Marvin, what makes the current situation so special?
MP: At the moment, about 100 million people in Afghanistan and Pakistan live in poverty –chronic poverty actually. You have all these challenges in several parts of Asia – or rather in the world – and then you face a lockdown. It affects people of any ethnicity, all colors, and all faiths. But it has a devastating effect on people living in poverty. A shutdown means that they cannot provide food or any essentials for their families like sanitizer, masks, or gloves. Everything you need to fight against COVID-19 is just not possible.
We have people working in factories, daily wage workers, barbers, cobblers, selling vegetables, working as an electrician or plumber. All these are people working as daily wagers in Afghanistan and Pakistan. They have a very small buffer. Within one or two days they run out of the little reserves they have, the little food they have stored. Neither do our governments have security nets, pensions or things like that. The governments do not have the financial means. We will see that COVID-19 pushes families, communities, villages and towns into absolute poverty, into hunger.
What are the differences between Afghanistan and Pakistan?
There are serious threats to communities in both countries. Both Afghanistan and Pakistan are experiencing complex emergencies and consequences of climate change. Afghanistan is one of the poorest countries in the world, is plagued by landmines and has one of the highest infant mortality rates. It is also known as the country of widows. Having about two million widows means almost two million households are headed by women and therefore more vulnerable.
What are the most urgent needs?
The most urgent need in the Afghan villages of Kandahar, Bamyan, Laghman or Kabul province is help in food. The same with the rural provinces as well as large slums in Pakistan. Our priority has been the female-led households as well as those of ethnic and religious minorities in both countries. We often see that when there is a crisis, marginalized communities and individuals like trash headers, women, ethnic and religious minorities are penalized even further und usually left out. We received reports that minorities were not included in lists prepared by NGOs for the local governments. That's why we prioritize cash transfers for food to the most vulnerable, the most marginalized rural and slum dwellers.
For the cash transfers, we are acting by mobile phone which people in urban areas have by 90 percent, and 60% in rural areas. For those without access to a mobile phone, we provide services in a way which is safe and also assures social distancing.
What are other important issues?
If you see our history in this sub-region, there has been a lot of conflict on religious, political and ethnic lines, so we are looking on a program of social cohesion. We have seen in South Asia and in many parts of the world how social media have been used to stigmatize certain communities, certain ethnic and religious groups. We have seen this happening in India recently where Muslim communities have been blamed for spreading COVID. We have that challenge in our region, where we see ethnic minorities are targeted. Not only are they a priority for our aid program, but also a program on social cohesion should be started.
What are the challenges for you as an organization?
It's the first time that the ACT Alliance staff are victims, too. We are not just aid workers moving to a region, a community, to assist them, but we and our families are facing the same emergency. So for CWSA, besides responding in both countries, the first thing we did was to order safety kits for the staff in the field. The situation is a challenge at every step.
What's extremely important for us, and our colleagues at Act Church of Sweden, too is Quality and Accountability. We have already started training programs for aid workers, NGOs, INGOs and the U.N., through webinars on quality and accountability, cash transfers and protection. Even courses on human resources, fundraising and communication. This quality and accountability program is something that we need to start from day one, because we not only have to be accountable to the communities we assist, but also because we have signed on to CHS Alliance commitments, such as duty of care.
Why should donors fund activities in Afghanistan and Pakistan?
The economic fallout, people not having livelihoods and not having food is going to be unprecedented if we are not going to respond right now. I do understand that every country, every region is affected by this. But I think that if we don't dig deeper in our pockets, we'll have a crisis once we've won the war against the virus. Many more people will be adding to number of those already living in chronic poverty. We'll see large migrations and civil unrest. And to me, to avoid that, to prevent that, is to work in a big way right now. It is an appeal to our funding partners, an appeal to our donors, to governments. There are a lot of requests.
COVID will change the world – and in that world we will have many more challenges than we have today. Helping communities, families, individuals to rebuild livelihoods and their lives is one of our top long-term priorities as we move into recovery after emergency.
ACT Alliance Global Response to the COVID-19 Pandemic
Read the stories from CWS Asia
Community workers:
Education:
Health:
Human Resources:
Humanitarian: