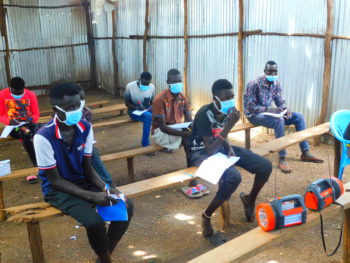 On the 15th March 2020, His Excellency, Uhuru Kenyatta, president of Kenya, ordered the closure of all schools in Kenya as one of the measures to curb the spread of COVID-19 outbreak in learning institutions. To respond to the president's call, education stakeholders had to find innovative ways to ensure that learners can continue school without disruptions. Classes could go on via radio, television, and mobile phones or students could attend classes online via zoom. Not all parents in Kenya own electronics or can afford to buy data bundles daily. As a result, Finn Church Aid's Kenya Country Office, being one of the lead actors in the education sector in the Northern part of Kenya, came up with ways to help learners acquire education virtually.
First, FCA distributed 500 solar-powered radios to selected parents and guardians in Kalobeyei settlement. A group of parents accompanied the pupils in following the school radio lessons. Involving parents' in-home learning was one way of making learning a collaborative effort. A time table was also shared in advance to both parents and teachers to help plan their day. Each of the parents and guardians was assigned five 8th grade learners, that they would take through the radio lessons. The solar-powered radios distributed by FCA are uniquely made with flashlights incorporated in them, enabling them to study even in the night. Besides that, to ensure that learners go through the designated Kenyan Education Curriculum, parents were asked to tune in the radio lessons from the Kenya Institute of Curriculum Development. Thanks to this program, over 1,285 grade 8 learners are taking school lessons from home. To make learning a communal affair, FCA created a WhatsApp group where both parents and teachers give feedback on radio broadcast lessons.
With the support of UNICEF, FCA trained 278 teachers on the Competency-Based Curriculum. Teachers in Crisis Contexts training was prepared to work with crisis-affected children. The teachers' capacity building workshop saw FCA Kenya journey with teachers to ensure that their capacity was enhanced.
According to research done by Kenya's Ministry of Education, girls lose an average of four school days every month, which translates to two weeks of learning each term. Over four years of high school, they lose on an average of 165 learning days. School closures during this COVID pandemic have implications for the girls who have been receiving menstrual pads from schools, therefore someone has to reach out to them in the community. Consequently, FCA jointly worked with UNICEF Kenya and issued dignity kits to 200 primary schools in Kalobeyei. This was to help girls to continue with home learning without being distracted or falling into traps of people who may want to exploit them sexually in exchange for pads. The dignity kits that were issued to the girls on the 2nd June 2020 contained: two packets of pads, bar soap, Vaseline, hair combs. This was to help the girls to take charge of matters related to menstrual hygiene in private, and continue with their education.
To ensure that a multitude of audiences in the community are sensitized on coronavirus, FCA sponsored two live radio shows. The shows were broadcast live from North Rift FM in the Swahili and Pokot languages.
This was with the support of UNICEF Kenya. The two radio programs discussed access to education, proper health, sanitation, and hygiene. The programs were interactive, enabling the listeners to learn, participate, and contribute more to what can be done to enable people to live normally during the COVID 19 pandemic.
FCA provided information in refugee settlements and trained teachers, school committees, and community workers on how to protect communities. Schools and refugees were equipped with soap, hand sanitizer, disinfectants, and buckets. Information was distributed via radio, SMS, and megaphones that adhere to the guidelines of national authorities. The health crisis and measures to curb the spread of the coronavirus have also changed the work of Finn Church Aid. Our actions include providing emergency aid, hygiene supplies and distance learning as well as creating awareness about the disease. The situation has also sparked new ways of working in areas where we cannot be physically present.
Funding for the project came from FCA, UNICEF, and UNHCR.