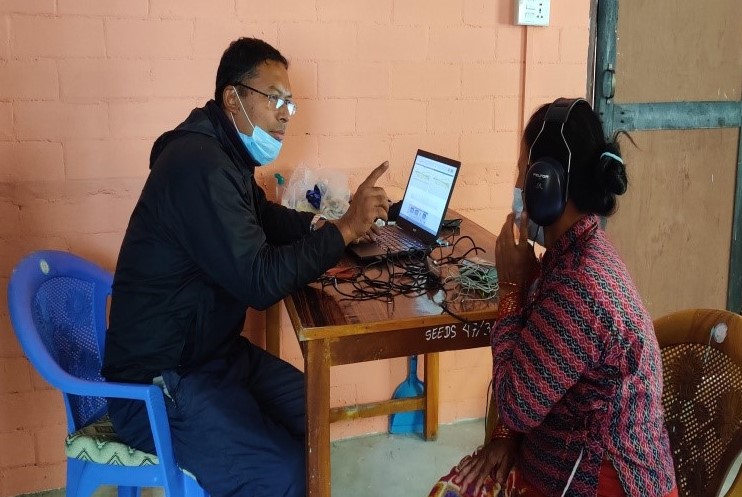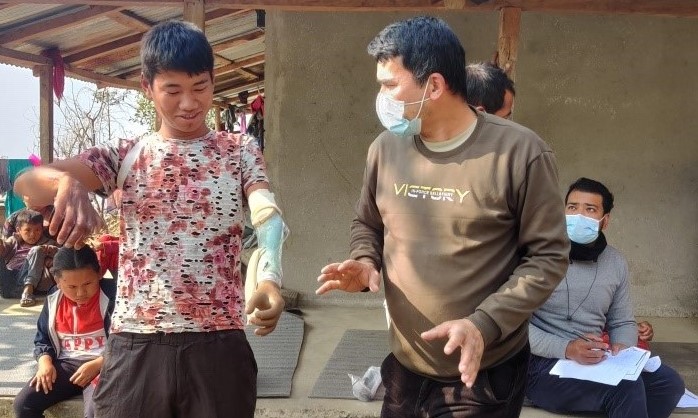 Most people with disabilities in Nepal are dependent on others, as there is minimal care and support from the state. Many of them cannot afford individual medical equipment. That's why Christian Aid provided assistive device and tools to most vulnerable persons like 25 years-old Ramesh Waiba and 57-years-old Panchamaya Shrestha in earthquake-affected areas.
Ramesh Waiba worked as a mason, earning his living by constructing houses and working locally in the fields. Then he lost his left arm after accidentally touching an electrical wire some years ago. His family is very poor and couldn't afford to buy an artificial replacement for him. The young craftsman had to stay at home and was reliant on the help of others.
Panchamaya Shrestha faced hearing challenges since she was a child, which also hindered her speaking abilities. Since audiogram tests and hearing aids are expensive, the financial burden on the family set a limit for her treatment. Panchamaya therefore hardly went out and even if she did, she needed someone to accompany her because the roads are narrow, and she couldn't hear vehicles approaching nearby, even when they honked their horns.
Collaboration with specialized partners
Ramesh and Panchamaya live in the Uttargaya Rural Municipality of the Rasuwa district. ACT-member Christian Aid assessed the situation in this district in order to enhance the resilience of earthquake-affected persons with a sustainable approach. Based on the assessment and recommendation from the district government, a project titled "Utthan: Uplifting the Poor" was introduced in Panchamaya's and Ramesh's municipality, following a "Leave no one behind" approach. Christian Aid collaborated closely with the National Federation of the Disabled – Nepal (NFDN) as technical partner as well as with the local NGO partner Sustainable Enterprise and Environment Development Society (SEEDS) on disability inclusion issues.
High estimated number of unreported cases
Officially, there are 289 disabled people in the Rasuwa district alone, the most common types of disability being hearing loss, walking and cognitive problems. However, the actual figure is estimated to be much higher. The programme beneficiaries targeted by Christian Aid belong to the most vulnerable groups. Most of them are too poor to afford medical equipment, particularly as it is not available locally. In addition, there are no specialists for the technical measurement to fit the medical devices to the requirements of the individuals with disabilities.
Christian Aid and SEEDS could support 45 persons in the district with assistive devices and tools, including hearing aids, toilet chairs, crutches, white canes, walking sticks, orthopedic shoes, prosthetic limbs etc. The objective was to identify these left-behind groups and help to uplift their capacities for a better living.
Ready to learn new skills
Ramesh received an artificial limb in December 2020. "The prosthetic arm made it easy for me to perform household activities and to carry fodder and other weights which were challenging for me after the accident," he says. After getting used to his new arm, Ramesh wishes to sharpen his skills as a mason and earn his own living again. "And I believe that one day I'll be able to fulfill my dream of riding a scooter", he describes his biggest wish.
Increased security and relief for the family
Panchamaya is also very happy about the support. She is now able to hear things in her surroundings, has become responsive towards different sounds, and reacts accordingly. She is able to walk on roads more safely as she is able to hear the vehicle noise. She can complete household activities with ease and feed the animals, which makes life easier for the family members, too. In addition, her ability to hear can also prove to be a life saver in emergencies and natural calamities.
Sunjuli Singh Kunwar, Prabhat Poudyal
Pictures SEEDS/Christian Aid Nepal, f.l.t.r.: Panchamaya during the audiogram test / Ramesh with a physiotherapist practicing the moves with his new prosthetic arm.
__________________________________________________________________________________________
For the future, Christian Aid is looking for potential funding partners or INGOs to link with SEEDS to take forward this initiative as Christian Aid in Nepal is exiting at the end of March 2021. In case of interest, please contact Ramesh Lamichhane, Chairperson (seedsrasuwa@gmail.com) or Manish Prasai, NFDN Admin and Programme Manager (admin@nfdn.org.np).