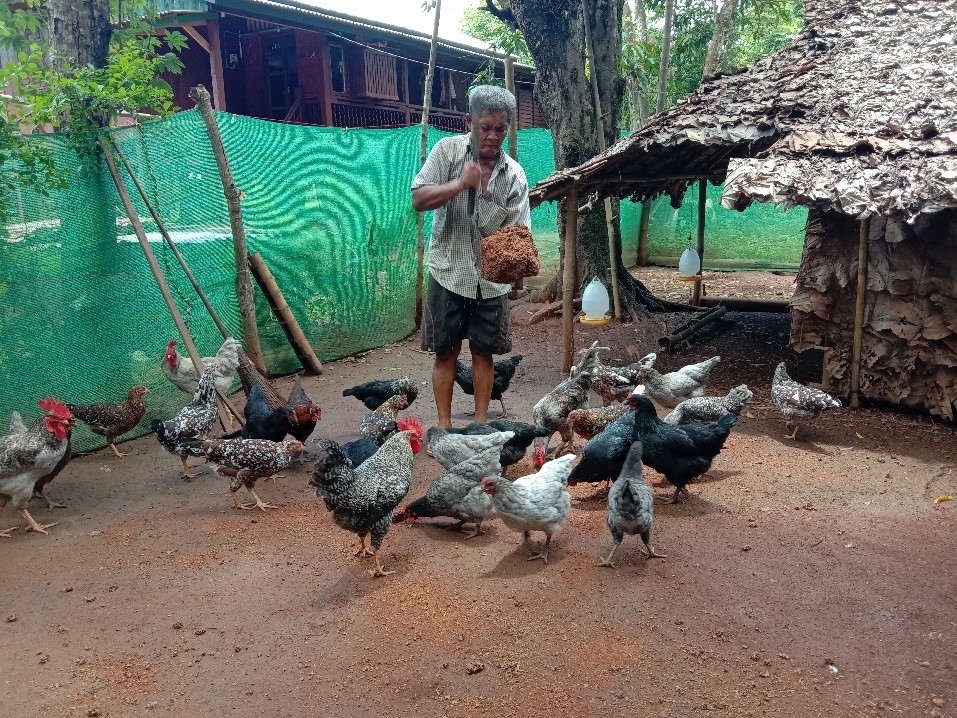 Hpar Pun village is in the Ka Mawt Ka Chu Village Tract of the Hlaingbwe Township in Myanmar's Kayin State. It is home to 222 households, living mainly on agriculture and poultry farming. Most villagers are Poe Karen and Buddhists. The village is one mile away from Hlaingbwe, allowing the villagers to sell and buy their products at the Hlaingbwe market. They are supporting and helping each other.
Working abroad to pay school fees
Sixty-three-year-old U A To lives in Hpar PUn together with his wife and his 19-years-old daughter who is attending Grade 11. He had a monastic education and does not speak the Myanmar language fluently. He used to work in traditional rice farming but did not have an adequate income for his family because of limited capital and the low rice production rate due to climate change and infected rice. So, he worked for six years in a poultry farm in Thailand for the sake of getting more income and to support his daughter's education. After that, he decided to return to Myanmar and do local poultry farming because he was getting older and wished to live with his family. "I want my daughter to graduate. That is why I am trying my best to support her education," he said.
Big plans for the future
After his return, U A To be­came a member of the Village Development Committee. He participated in a local chicken raising training in 2019 and in a refresher in 2020, both con­ducted by the ACT Joint Pro­ject staff. The future poultry farmer received 300,000 MMK (188 Euro) from the pro­ject in order to establish a sys­tematic poultry farm and buy 50 chickens. U A To made an average monthly income of 150,000 MMK (94 Euro) by selling eggs and roasters. He happily says, "The demand for eggs has increased. The buyers come to my home to buy eggs and roasters." U A To also started a hatchery with an egg incubator to expand his poultry farm. Now, he earns enough income for his family by poultry farming. He breeds chicken systematically and vaccinates them monthly.
U A To says: "I will try my best to produce chickens of export quality. I got enough income by selling chicken and eggs during Covid-19. So, I feel happy because I am on the right track with my own business without being tired like rice farmers." Now, he is also sharing his knowledge and experiences to two persons living in the same village, who want to start poultry farms as well.
Photo: ACT Joint project