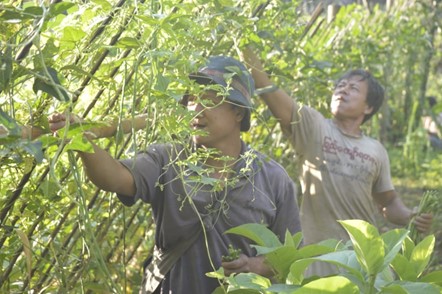 The Ohn Shit Gone village located in Sin Bin Gyi Village Tract, Thandaunggyi Township in Kayin State is home to 125 households. Their main livelihood is horticulture, with long-term plan­tations. Most villagers are Sagaw Karen and Christians. The village is 15 miles away from Taungoo where the villagers can sell and buy their products. Brokers come into the village as well.
Rubber and betel nut didn't provide enough income
U Jerry, fifty-four years old, is a member of the village development committee who lives in Ohn Shit Gone together with his wife and son. He used to work in traditional farming and cultivated long term crops– rubber and betel nut. But he did not earn an adequate income because he had little knowledge of systematic farming techniques including pest management, soil conservation and making natural fertilizers. In 2019, he was introduced to the practice of seasonal plantations by the ACT Joint Project staff. He became one of the key farmers and got an opportunity to participate in a farmer field school training. U Jerry received technical support from the Department of Agriculture as well. He participated in trainings on Conser­vation Agriculture (CA) and Sloping Agriculture Land Technology (SALT) by an external agricul­ture technician as well.
More yield with natural fertilizer
After the training, U Jerry started utilizing the technical knowledge in his farm. He said: "I now know about Good Agri­culture Practice (GAP), pest management and making natural fertilizers after attending the training." He started planting seasonal crops such as long beans, eggplant and gourd with Conservation Agriculture methods for his family's consumption and selling in his village. He earned about 500,000 MMK (313 Euro) within three months. By using the CA method, he reduced the money needed for fertilizer and his crops grew very well with natural fertilizers. In addition, he got benefits such as increased yield and thus more income. U Jerry stated: "It is a great chance to learn about these agriculture methods due to the assistance of the ACT Joint Project. I am really thankful to everyone who contributed knowledge and funds to strengthen our livelihood activities." In addition, most villagers become more interested in his farming and visited him due to the Covid-19 situation.
Photo: ACT Joint project