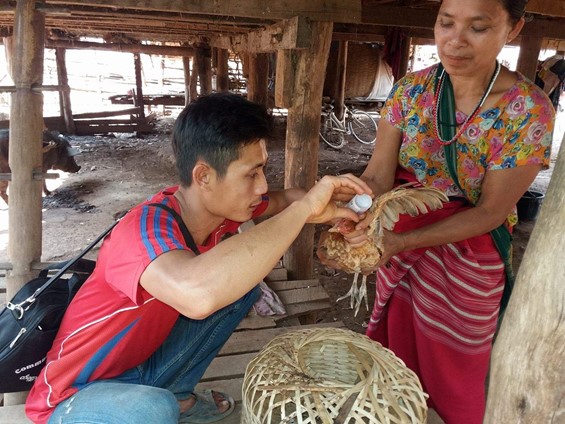 The Ywar Kaing Kaung village is located in the Hlaingbwe Township, Kayin State, Myanmar. There are over 218 households in the village, most of whom subsist on agriculture, animal husbandry, and remittances received from family members working in Thailand. Since 2015, the Lutheran World Federation (LWF) has partnered with community members through its Rights-based Empowerment Programme in order to build leadership and technical skills and help community members to improve livelihood opportunities. An important aspect of the approach is to capacitate communities to proactively advocate with government duty-bearers in order to claim their rights to essential services.
Saw Htay Win lives in Ywar Kaing Kaung with his wife, their three children, and his in-laws. He makes his living as a mason, earning about 100,000 Myanmar Kyat (65 Euro) per month while helping on the parents' farm. He serves his community as a youth leader and as Assistant Secretary of the Village Development Committee.
Crucial role of animals
One of the key problems faced by Saw Htay Win's community is the lack of veterinary assistance for families who rely on animals for food, income generation, and as the primary means of transportation and manual labour. Animals are an important component of family wealth generation; sales of large animals also cover major expenditures like education and funeral costs.
Joint training, divided tasks
The need for a Community Animal Health Worker was prioritized in the village development plan, and community members advocated with the Township Agricultural Department for supporting an extension worker to serve their needs.
The authorities agreed to this request, and with ACT-member LWF jointly organized a training of newly recruited Community Animal Health Workers (CAHW) to serve remote communities in Hlaingbwe Township in May 2019. LWF agreed to provide the initial veterinary kit, valued at 85,000 Kyat (54 Euro), on the condition that the government would provide ongoing technical supervision and continue to provision CAHW with supplies. Saw Htay Win participated in this training and also joined an advanced CAHW training co-facilitated by LWF and the township Livestock Breeding and Veterinary Department (LBVD).
A win-win situation
Now in addition to his other work, Saw Htay Win is providing essential veterinary health services to his community as a volunteer Community Animal Health Worker. One of his first jobs was vaccinating 100 chickens for his neighbors.
"I charge a small fee of 1,000 Kyat (0.65 Euro) per vaccination and earn about 75,000 Kyat (48 Euro) per month by providing services to my community. Now I can better support my family, including paying for visits to the doctor in town," he said.
"My neighbors can just call me and don't have to wait for government veterinary technicians to travel all the way from town. They trust me because their animals are healthy and they are earning more profit than before", Saw Htay Win states.
Photo: Giving vaccination to a chicken to prevent seasonal disease at Ywar Kaing Kaung Village / ACT Joint project