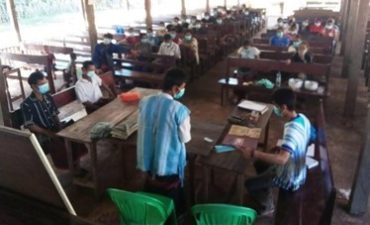 Bay Thay Hla village is located in Kasap Village Tract, Kyarinseikgyi Township in Kayin State, about two hours driving time from Kyarinseikgyi. The main livelihood of the 41 households in the village is farming. Most villagers are Sagaw Karen and Christians.
Village Development Committee attending several trainings
The local Village Development Committee (VDC) was formed in November 2016, during the ACT Joint Pro­ject Phase 1. Moreover, a self-help group was formed to do saving and loan activities in the village. Bay Thay Hla village was selected for the ACT Joint Project phase 2 activities. The VDC consists of nine members: five male and four female. To build the capacity of the VDC as a community led organization for local development, its members have been empow­ered through a variety of capacity building including leadership and management, book keeping, and delivering sustainable development concepts.
New self-confidence
After attending the trainings, the VDC can advocate and communicate with govern­ment representatives, including those from the De­partment of Agriculture (DoA), the General Administrative Department (GAD) and the Ethnic Armed Organization (EAO). They VDC-members state: "Now, we dare to speak in front of the community and with different staffs as we didn't dare to do be­fore." They work on annual village development plans and manage the rules and regulations of a self-help and a sesame procedure group as well. The VDC conducts monthly meetings and can properly provide minutes and financial docu­mentation for each activity. While the ACT Joint Project phase 1 supported the self-help group with 2,000,000 MMK (1250 Euro), the fund has increased to 5,600,000 MMK (3,500 Euro) in 2020 because of their members' activities in this village.
Successful collaboration with the government
The VDC-members established coordination and networking with the Karen National Union (KNU) Edu­cation and Livestock Breeding Department for technical support and Covid-19 awareness sessions. Moreover, the VDC can directly communicate with the government agriculture department for tech­nical support. Their proposal for main street renovation that was submitted to the Community Driven Development (CDD) was selected as well. As a result, CDD provided funds for half of the street reno­vation, and the villagers repaired the remaining half of it with the contribution of income generation and self-help group activities. The villagers are happy because better transportation helps them to get more market linkages and it saves them travelling time to the nearest hospital in emergency cases. The VDC-members are respected by the villagers because of their performance and leadership for the village development.
Photo: ACT Joint project