Community World Service Asia is organizing a training on Advancing Women Leadership from November 24 to 29, 2019 in Bangkok, Thailand.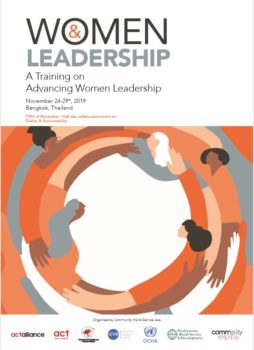 There are more educated and driven women entering the workforce today than ever before, yet most organizations still struggle with retaining and developing women leaders. The time to change this trend and see the impact of gender parity in leadership is now.
Why women only?
In short:
Women's leadership style is different than their men counterparts.
Women set out to make a difference through action.
Women are worth it!
This training is a holistic approach to leveraging the strength and power of women. We are all unique beings and this course lends itself to that.
The attached brochure provides detailed information. If you wish to nominate any person(s) from your own organization or from partners for this event, kindly fill the online application at https://forms.gle/bkBHB3zUxXHo3cWZ9.
If the applicant(s) meets the selection criteria, s/he will be informed via confirmation e-mail.
Should you require any further information, please feel free to contact us at our office in Karachi, Pakistan.
Thanking you and look forward to seeing you at the workshop.