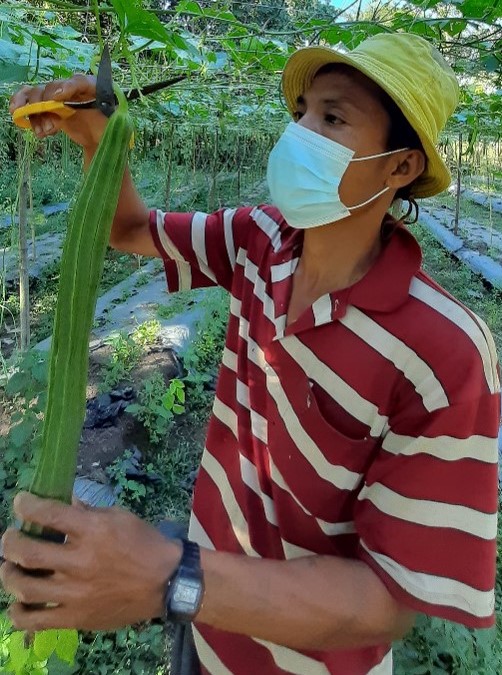 Pat Kyaw village is located in the Hlaingbwe Township in Kayin State. The main livelihoods of its 384 households are agriculture, poultry and rice farming. Most villagers are Poe Karen and Buddhists. The village is seven miles away from Hlaingbwe, which allows the villagers to sell and buy their products in Hlaingbwe market. Due to a lack of job opportunities, many young people and adults with an incomplete formal education left to work in Bangkok, Thailand. They did not come back to Myanmar during Covid-19, but they could transfer small remittances back home.
Not enough income to pay medical fees
U Thein Win, 44 years old, lives in Pat Kyaw village together with his wife and their four-and-a-half-year-old daughter, who has suffered from asthma since birth. U Thein Win grew rice to earn the family income on their three-acre farm. His wife could not help him since she had to take care of their daughter. Despite working on their farm the whole year round, U Thein Win did not earn enough income for his family. During the rice yield period, he stored some rice for his family's consumption and sold some to get money. The average annual income from farming was 500,000 MMK (313 Euro); he also worked as a general worker to cover the family expenses including his daughter's medical fees, which are about 60,000 MMK (38 Euro) per month. Though he received 30,000 MMK (19 Euro) as general worker, his income was not enough to pay the medical fees. "I borrowed money from my relatives and from the community saving group that one can borrow from only once every six months because I did not get enough income for my family," he said.
Full-time farmer now
U Thein Win is also serving as chair of the village development committee. He participated in a leadership and management training and a two-days vegetable production course conducted by the ACT Joint Project staff. In addition, he received 289,000 MMK (181 Euro) in order to start cultivating seasonal crops and buy farming equipment. He cultivated cucumbers as his main seasonal crop as well as okra, roselle and water grass as secondary crops. Meanwhile, the project staff provided technical guidance and suggestions to him. Now, the farmer is earning 300,000 MMK (188 Euro) as his average monthly income. He said, "By cultivating seasonal crops, I receive enough income for my family and I can save about 20,000 MMK (13 Euro) monthly." He does not work as a general worker anymore but decided to cultivate vegetables in his farm as his main business – two acres of cucumbers and one acre of luffa.
The farmer said, "I will expand my business by cultivating seasonal crops in order to sell them in Hlaingbwe and Hpa-an." Now, he is also sharing his knowledge and experiences with others living in the same village who will start vegetable cultivation. Seeing his success, the other villagers are interested in doing it as well.
Photo: ACT Joint project