Since 2005, India has had one of the biggest social security systems in the world called "MGNREGA". Its objective is not only to provide economic security and to create rural assets, but also to support the protection of the environment, to empower rural women, reduce rural-urban migration and foster social equity. However, female representatives called "MGNREGA mates" are rare. Women leaders like Khanki Bai who work for the organisation therefore are extremely important.
Samarjhap is a village near the city of Udaipur in the northern state of Rajasthan and the home of Khanki Bai. Being a part of the people's organisation Jan Jati Adhikar Manch (JJAM), Khanki Bai volunteered to monitor the government works within MGNREGA. She is the only woman in this function in her area.
Changing the focus on legal rights
Khanki Bai has been interested in leading women rights for decades. She joined Prayatna Samiti, a voluntary organisation committed to the socioeconomic development of poor and vulnerable rural communities of Udaipur 30 years ago. The organisation is supported by ACT Alliance-member CASA India and promotes JJAM's activities. Khanki received the training on rights arranged by the organisation and guided women to the front. In the past, she had success in conserving traditional seeds, defending forest rights, ensuring access to social service schemes and curbing violence against women.
"Mahatma Gandhi National Rural Employment Guarantee Act" secures right to work
After the imposition of a nationwide lockdown to contain the spread of COVID19 on 28th March 2020, many women in the Samarjhap area lost their sources of income. However, the "Mahatma Gandhi National Rural Employment Guarantee Act" (MGNREGA) which was created in 2005 is an Indian labour law and social security measure that aims to guarantee the right to work for everybody. MGNREGA is to be implemented mainly by gram panchayats (GPs) – self-governing entities in India at the village or small-town level, with a so-called sarpanch as its elected head.
Trying to stop women from working
Khanki Bai narrates her experience during the COVID-19 pandemic: "Being an official representative of the MGNREGA, in May 2020 I registered 85 women from Samarjhap village for 13 days of work at a village site. They prepared plantation work there".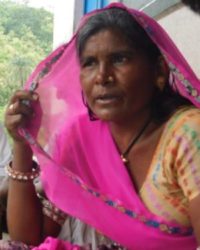 But during the 11th day of work, something unusual happened. "A social security representative from another worksite interfered unnecessarily in our affairs during the working hours. He started insulting the women by commenting that this site was illegally allocated to them and asking how women could work in the village. He made a complaint to the forester of the area to stop them", explains Khanki Bai. But she was unwavering in her motivation to fight for what was right. "Taking the issue seriously, I talked to the social security representative as well as to the forester. I told them that the site was allocated to the workers by the local government. I warned them that the forest department had no right to talk to me like that and that I should report to the local government officials instead. If they would further humiliate women workers at the worksite, we would drag them to the labour court," she says. The case was resolved on the spot and the women could continue to work. "Each one of them earned 200 INR per day for 13 days by the job." says Khanki Bai with satisfaction, as life has become even harder in times of COVID and the women depend on the money earned in MNREGA-projects.
Women attacked on many levels
Incidents like this happen quite frequently in India. Women are not only attacked for observing their right to work in the framework of the Indian social security system. According to a National Family Health Survey from 2018, one in three women faces mental, physical and verbal domestic violence.
The incident exemplifies the role of leadership in securing women's jobs and combating injustice inflicted upon them at the cost of dignity. "Such types of violence can occur at any work site. Leadership needs to be emerged to balance gender equity and equality", adds Khanki Bai.
Women's agency and leadership a very critical aspect
"India is a highly patriarchal society, likes to maintain the hierarchy and anyone who breaks that norm and makes new scripts is punished", states Joycia Thorat, CASA's Project Officer and Chair of the ACT Alliance's Gender Community of Practice Asia Pacific. "MNREGA women mates are not a very common phenomenon. It's a leadership position, and when women take up leadership and assert their position, men can't accept it", she continues.
This can be seen across the spectrum in any field in India: Women's agency and building their leadership is a very critical aspect in gender justice work. CASA's constant engagement with the community to empower women and to build their leadership capacity, will and knowledge has resulted in women like Khanki Bai who can counter male domination even in the Indian caste system and are strong enough to enforce the vulnerable community's rights", Joycia Thorat says with conviction.