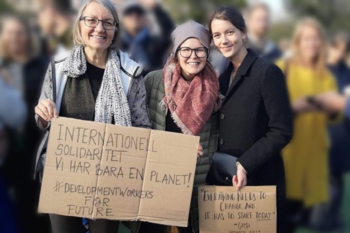 Margareta Koltai, Thematic Advisor for Fair and Sustainable Livelihood, Act Church of Sweden
I'm one of the privileged who were tasked to read the Church of Sweden's revised "Bishops' letter about the Climate" to provide inputs. When I was offered to write my personal reflections, I immediately responded positively.
I felt the urge to write and give voice to all the people who are suffering from the climate induced crises all over the world. I wanted to mourn all the 350 people who lost their lives in India, Nepal and Bangladesh during the monsoon season and tell their stories. I wished that the lives of those who were killed by Cyclone Idai in Zimbabwe and Mozambique could be brought back to life. I wanted to express my sorrow for the forests on fire and the loss of biodiversity in the Amazonas. Expressing my grief for those who are suffering every day but never reach the front page of newspapers. To paraphrase UN Special Rapporteur, Ms Mami Muzutori, there is at least one hidden human disaster happening every week.
I wanted to write a story to express my concern. However, I started to feel a growing fear of losing hope. Reading the Bishops´ letter provided comfort because it affirmed my right to feel fear and worry in the face of inaction.
The Bishop's letter encourages us to share our thoughts and feelings about the climate crisis.
Not as an excuse to give up, but as a way to realize that we are standing at a turning point!
Having accepted my sorrow and concern liberated new empowering emotions. To be honest, my initial mind set was geared more towards anger rather than hope. I did understand Greta Thunberg's frustration directed towards political decision-makers. The same people who were applauding her speech at the UN's climate meeting who did not have the courage to take the necessary decisions needed to end the unsustainable climate emergency.
"How dare you?" is a pertinent question. It reminded me of Jesus in the Temple. Jesus reacted strongly when short-sighted economic gains overpowered spiritual and existential needs. He cleansed the Temple from the merchants and the money changers when they threatened the holy place meant for prayers and worship. I do believe that verbal holy wrath can serve its purpose when directed towards those in power and when life on Earth, as we know it, is threatened.
The Climate crises is a justice issue.
It is not possible to defend the current status quo where a mere ten percent of the richest people enjoys a wealth paid by the poorest half of the world's population, our grandchildren and future generations. The Bishops' letter describes the climate crisis from an existential and spiritual perspective. The climate crisis is to a high extent an ethical, political and social justice issue.
The Bishops' letter is encouraging us to let our worries turn into political empowerment and action. We must use our rights and our leverage as citizens to influence political decision-making and demand a systemic climate- friendly change.
Faith leaders supported ACT Alliance and the World Council of Churches took part in a pilgrimage to collect signatures for a petition demanding Climate Justice. More than 200.000 signatures were collected and handed over to the UN climate summit in Durban in 2011 by Archbishop Desmond Tutu.
This year I participated in the climate strike in Stockholm. We marched along the streets through the Old City singing:
"People are going to rise like the water. We're going to face this crisis now. I hear the voice of my great grand-daughter singing Climate Justice Now!"
On September 27 Greta Thunberg and the students' movement were able to mobilize more than 7 million people all over the world. The purpose is to hold political leaders accountable for our and future generations. There is a global popular movement that is rising and reminds me of the prophet Amos words: "Let justice roll on like a river, and righteousness like an ever-flowing stream".
It is tough to struggle alone, but together we can transform sorrow and anger into hope and change. Together, you and I, church leaders, friends and people we don't yet know.
Together we can pray, sing and demand Climate Justice Now!
The Bishop´s letter encourages people in Sweden to:
• Talk with each other about your thoughts and feelings about the climate crisis
• Let your worry be transformed into political action. Use your rights as a citizen and your voting power to promote political climate friendly system change.
• Take concrete action in your daily life. Reduce fossil emissions by changed travel options, consumption, investments and living standard.
• Support people who are heavily affected by climate changes.
• Use your religious assets based on your faith tradition. Dare to ask for support and do not give up hope. Nobody can change the world alone, nobody is perfect, but everybody's contribution counts.