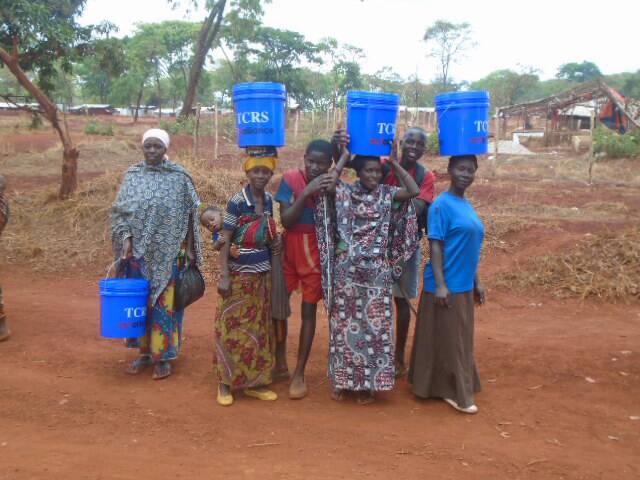 Prior to the current influx of Burundian refugees, Tanzania had only one remaining refugee camp i.e Nyarugusu, established in 1996 to host Congolese (DRC) refugees. Accommodating just over 65,000 mainly Congolese refugees, and being the only refugee camp open, Nyarugusu provided shelter to thousands of Burundian refugees who arrived in Tanzania fleeing from civil and political strife in Burundi at the start of the emergency in April 2015, increasing the camp population to over three times its carrying capacity and making it one of the largest and most overcrowded camps in the world. This necessitated the re-opening of another two refugee camps by the government: i.e Nduta and Mtendeli camps.
ACT member Tanganyika Christian Refugee Service (TCRS) has been working as a WASH lead in Mtendeli camp since its reopening in January 2016. TCRS being a WASH lead in Mtendeli camp is receiving funds from UNHCR for implementation of the water, sanitation and hygiene promotion activities in the camp.
In general, since the beginning of the influx to date, the operation continued to be underfunded and this has created major challenges in responding to the immediate and acute needs of the persons of concern resulting in limited services to refugees in the existing camp. UNHCR and implementing agencies are doing a lot in delivering needed support to refugees, though huge gaps are still reported in almost every sector.
TCRS as an agency responding to WASH through UNHCR, also received support which came through ACT Alliance with the last Appeal starting in July 2016 and ended June 2017 and was for continued provision of support for WASH in Mtendeli camp and Community Based Psychosocial Support (CBPS) in both Mtendeli and Nduta camp.
Through ACT Alliance support, we were able to assist in the exploration of water sources in Mtendeli which was one of the critical areas and most challenging, by facilitation in the planned electro-resistivity survey for information interpolation at the sites with greatest ground water potential. The survey involved water experts from Lake Tanganyika Water Basin Board (LTWBB), Kigoma Regional and District Water Engineers (Kibondo and Kakonko), TCRS and UNHCR as a continuation of a wider sector approach. Of all the identified points as possible drilling sites, we later managed to drill (with UNHCR funds of course) and four sites were found with productive boreholes which have now improved the water availability in the camp and water is no longer a problem.
The funds also assisted in the water operation and maintenance through procurement of some water equipment and working tools in the bid of improving water network in Mtendeli camp.
Hygiene performance was also strengthened through procurement and installation of hand washing facilities and procurement of environmental cleaning kits and detergents for cleanliness. All these to complement UNHCR efforts to ensure refugee needs/service are met.
Another area of concern was activities under Community Based Psychosocial Support (CBPS), whereby refugees in Nduta and Mtendeli camp were supported in restoring hope, dignity, mental and social well-being to promote a sense of normality in the camps and encourage a stable and proactive life. In Community-Based Psychosocial Support (CBPS) the activities were focused on the whole population, though the main target population was the youth. The youth under TCRS guidance were 61,300 in total for both Mtendeli and Nduta camps.
Through mobilizing youth to take an active part in various organized activities, we made them youth to reduce the time for idleness and therefore eliminate/reduce their engagement in evil acts.
Amongst the activities implemented under this programme were mainly designed and meant to ensure the level of common decisions is increased inside the family, promotion of inclusion and community participation of refugees, Promotion of understanding and acceptance of rules and regulations in the refugee camps, promotion of social cohesion and understanding between refugees and host communities, engagement of youth in sports, music and drama to increase their active life in the camp as well as enhancing positive thinking and problem solving.
It is worth noting that, TCRS received some funds to support CBPS from UNHCR after the ACT Alliance funds ended, and this lasted for three months (October – December 2017). Nevertheless, UNHCR also failed to continue supporting this area due to financial constraints they are as well continue to face and left refugees and particularly youth in limbo and of no support.