Exploring new ways of working together in South and Southern Africa within the ACT Alliance. By Gerhard Buttner, Programme Manager, Christian Aid South Africa.

South Africa is one of the most unequal countries in the world. Marginalised communities are calling out for support and momentum is growing for large organisations and local civil society to unite in solidarity to fight injustice.
A group of ACT Alliance members, from both Europe and the Global South, and other partners in South and Southern Africa we are creating a model that will help communities fight for economic, gender and environmental justice.

Ubumbano
Ubumbano is a Nguni word for solidarity or unity, and is the name that describes this exploratory change process and the activities that have emerged from it.

Why South Africa?
As a key member of SADC, BRICS, the African Union (AU) and the G20, South Africa remains a critical place for global and regional advocacy.

Solidarity Hub
In March, we held two separate but connected key events, which set us on this journey. These included the Ubumbano learning event and the Ubumbano Solidarity Hub. (Watch the film here.)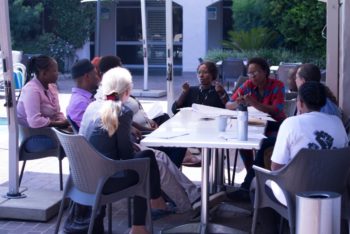 Action areas
Following the events we restructured our joint solidarity actions, taking our three thematic pillars — gender justice and sexual and reproductive health and rights (SRHR); economic justice; and environmental/climate justice — and creating five action areas:
Promoting community voice and actions.
Learning from our practice (including local and thematic learning events and exchange visits).
Protecting human rights and women's rights defenders.
Connecting people globally (south-south and north-south).
Resourcing solidarity (in which we also jointly explore new southern and northern philanthropy options).
Solidarity in action
Some of our partners are already using this approach to strengthen their existing work on social and economic justice.
For example, our partner BenchMarks Foundation (BMF) is monitoring the impact of mining on communities, ensuring that their call for dignity is heard by government and big companies, and their human rights are protected.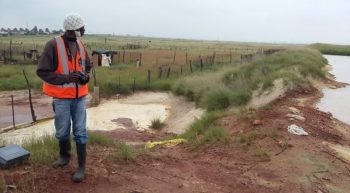 As part of this, a community voice app, Ubumbano Voice, will be launched later this year with diverse partners and thematic focus areas. This can then be linked with other partners and amplified through joint advocacy actions.

What next?
We will be formalising the Solidarity Hub structure over the next six to 12 months in what is intended as a shift in power towards the Global South, in partnership with the global ACT Alliance family and Christian Aid's global partnership approach.

More about the events
Ubumbano learning event:
This learning event brought together a diverse group of community organisers from Botswana, Mozambique, South Africa, Swaziland and Zimbabwe to:
'Share and discuss experiences and lessons emerging from the practice of community organising.'
Strengthening community organising was identified in 2017 as a priority area to help support communities in their struggles for dignity and humanity.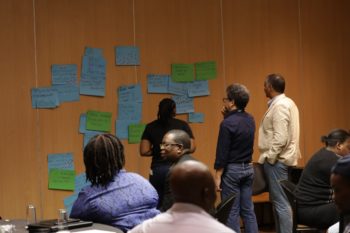 Ubumbano Solidarity Hub:
While the learning event had its own objectives, it also helped inform and bring a community voice to the second event — the Ubumbano Solidarity Hub.
This event involved mostly senior representatives of the southern partners and the three European members; Christian Aid, Bread for the World and the Church of Sweden.
A 'Solidarity Hub' is at the centre of our new approach, as a space for shared reflection and analysis, while also leading to new joint solidarity and programmatic action that is rooted in the communities we work with.
A key conclusion from the event was how important intersectionality (a concept that looks at how overlapping social identities, such as race and class, contribute to discrimination) is between gender, economic and environmental justice in our struggles for humanity.
'There is no such thing as a single-issue struggle because we do not lead single-issue lives.' — Audre Lorde, activist and poet
Enabling and giving space to community voice is central in understanding this and making it happen.