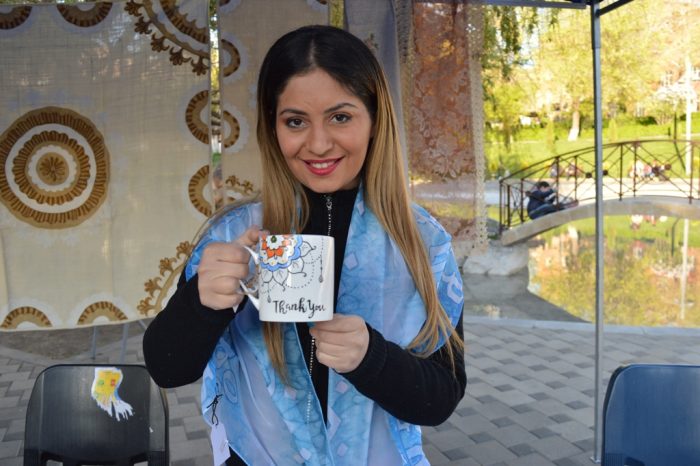 Angela Kirkian was born in Aleppo. She came to Armenia four years ago with her mother. Her sister, brother, and aunt stayed in Syria.
"They work there and have their own homes, so they don't want to come to Armenia. Salaries are higher in Aleppo than here", says Angela. Relatives informed her that people in Aleppo are no longer afraid of missiles and explosions. But still, there are many social problems."The prices of everything have increased, but the salaries have remained the same as it was before the war. Also, many professionals, such as doctors, left. The Armenians also left. Nothing is the same any more. I do not know how the situation should change for Armenians in Aleppo", Angela stressed.
She did not work for a whole year after they had arrived in Armenia. "It was the second year that the Round Table (WCC Armenia Round Table Foundation) organized a web design training, which  I participated in. It was very good and effective. We learned to write codes and create web pages", she said. After the completion of the training, Angela began working as a freelancer mainly at home.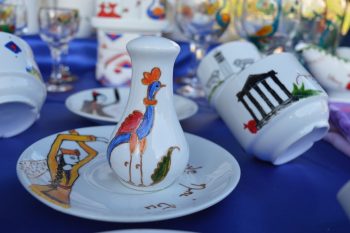 Online web design training helped her family to increase the income but Angela is sure she must not be limited with one job; she has to move forward and develop. "It's been a year that I'm doing crafts (hand-work). As this is related to my education, I have decided to draw on different things – on glass, scarves, clothes, ceramics, whatever is possible", Angela said.
We met her at an exhibition organized by the Ministry of Diaspora of Armenia for Syrian-Armenians. Angela had presented her handwork – scarves, ceramics and souvenirs. "I have already participated in 12 exhibitions this year. The sale is rather good. I also advertise on FB and get orders and all these thanks to my knowledge", Angela affirms.
Besides web design training, Angela also took part in a Russian language training last year organized by the Round Table. She said it was very useful to know Russian in Armenia such as they used Arabic in Syria. "The Russian language lecturer and the methodology were also good, teaching through games made us easy to learn", said Angela. She also used Russian in her web design business to communicate with clients, as some of them are Russian speakers.
Speaking on behalf of the 20,000 Syrian Armenians, Angela spoke about the problems of Syrians in Armenia, expressed despair and uncertainty towards their future as a whole. Many women from Syria have learned crafts and built their skills during these years. Nevertheless, they are uncertain about finding a job or rather a well-paid job. "The employers are looking for professional people to hire with little salaries and longer working hours", Angela claimed. Despite their hard lives here, she doesn't give up and calls everyone to seek and gain new skills.
Difficulties are mostly social, Angela said. "The main difficulty remains house rents. Besides, we have other expenses and never earn the living cost. There is also a big problem with knowledge of laws. For example, if some start-up wants to be registered there is so much information we are missing", the young Syrian-Armenian businesswoman said. However, she tries to fill this gap by visiting various seminars and consultations.
Her wish is to stay in Armenia. The main factors that can make her leave Armenia are the low wages and increasing prices here. "My income is small, even my freelance orders do not help to cover our expenses. The only hope, for now, is that this type of web design will be paid higher in the future," Angela said to roundtable-act.am.
You can get acquainted with Angela Kirkian's handworks by visiting her Facebook page. She also has a YouTube Channel where she presents her crafts.