Lutheran World Relief works to end poverty, injustice and human suffering by empowering marginalized communities to help themselves. As a faith-based organization, LWR is committed to community-driven relief and development that honors the God-given worth of all people and strives for justice, dignity and peace.
LWR works around the world through the support of individual donors, church bodies and partner organizations.
Founded in 1945 by Lutherans' compassionate response to a Europe devastated by World War II, LWR works today in Africa, Latin America, Asia and the Middle East — developing lasting solutions to poverty, injustice and disaster.
As a leader in fostering innovative and sustainable solutions to poverty, LWR has a strong record of success in designing, monitoring and growing effective and efficient partnerships for change.
Member News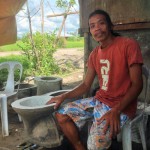 18 Jan 2016
Aldrin Lauding remembers the day he lost his home to Typhoon Haiyan like it was yesterday. The storm devastated his entire barangay (village) of Lao. Though he and his partner [...]