As the world continues to respond to the global pandemic of Covid-19, the coronavirus, the situation on the ground in every country is changing rapidly.  The ACT Security Group is putting together regular updates of their advice on how to deal with this virus.  The ACT Secretariat is in contact with forums and members around the world, and is looking into additional supports and responses that are possible from the Alliance.  We will continue to post updates to our website as they are available, to share our recommendations and responses to this situation.
LIVE STREAM, 2 DECEMBER, 2020
Security risk management
ACT Alliance produced another infographic on safety advices for staff working in the COVID-19 environment here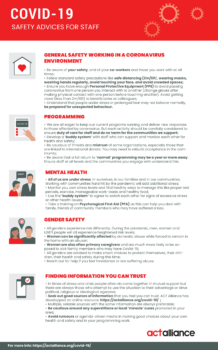 Resources
Infographic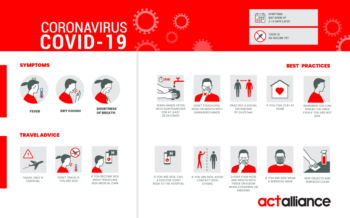 ACT Alliance

 

has produced a 2-page

 

summary

 

of the ACT COVID-19 appeal, and an infographic

 

about the appeal.
ACT Alliance

 

produced another infographic on safety advices for staff working in the COVID-19 environment

 

here 
ACT Alliance has produced a pamphlet on the role of FBOs during a health crisis. It provides arguments to justify investing in a stronger role of FBOs during the COVID-19 pandemic:

 

New Virus, Old Challenges
Digital organizing during COVID-19
Resources, tips and trainings by ACTLearn
As we navigate in these troubling times of Covid-19, we are increasingly challenged by working remotely and conducting meetings and trainings online. Fortunately, ACT Alliance's learning collaboration, ACTLearn, has focused on online collaboration and learning for several years and is ready to support! ACT Alliance members can take advantage of this collaboration and its resources.
A number of opportunities are listed below:
 Advanced Online Facilitation – Making your webinar or online meeting engaging and motivational
Get inspiration, useful tips and other helpful resources for working with dispersed teams, hosting online meetings and trainings, and much more. Participation is free. The webinar is hosted by DanChurchAid's Learning Lab.
The first webinar will take place on Thursday, March 26th from 9:00-10:00 CET. Find out more about the webinar.
Join the ACTLearn/Fabo collaboration and develop your own online courses
If you are interested to know more about the ACTLearn/Fabo collaboration, please contact Head of Learning Lab, Simon Skårhøj, ssk@dca.dk, DanChurchAid. You can also read more here. 
Virtual Work Site – inspiration and sharing space on working and training online
Learning Lab has launched a new virtual work site for experience sharing to help transition from in-person working to remote working. The site gathers resources, tips and tricks all in one place.
ACTLearn Hub for Learning – gate for ACT Alliance Members
This is a learning gate on fabo.org for ACT Alliance Members. On the site you can find courses for ACT Alliance Members. We are currently developing the catalogue. We are excited to offer free courses on "Code of Conduct", "Complaints", "Facilitation" and "Religion and Development". https://fabo.org/act