• About Created Equal
• Issues
• Videos
• ACT Statements on Gender
• Key Documents
• Activities
• Gender Resources

Created Equal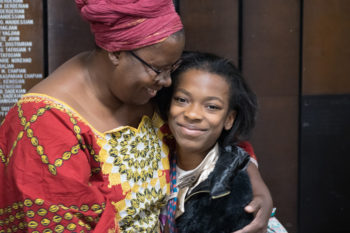 The issues of human dignity and gender justice are not new to the ACT Alliance. ACT members were working on these long before the Alliance was established, and continue that work today. The idea of developing a campaign builds on the work of many theologians, activists, churches and faith-based organisations who are bravely speaking out in defence of human rights and the protection of the human dignity of all.
The 'Created Equal" campaign aims to learn from, build on, and scale up the work done by members in addition to creating something new that we can all gather around.
The very first event at the ACT Assembly in 2018 was the gender justice event "Created Equal". The goal was to celebrate existing work, and to inspire all to take part in the work for gender justice moving forward. The Assembly was a crucial starting point for the gender campaign, as central documents related to gender were approved and affirmed.
The campaign is being built through consultation and a wide range of material including:
Feedback on the ACT Global Strategy.
Gender Justice Policy approved in 2017 by the Governing board
Consultation with all ACT Advisory Groups and Communities of Practice
2018 concept paper which set out why ACT is dedicating increased attention to gender justice across all areas of our work in the form of a campaign.
A reference group which was established with gender, theological and campaigning expertise, geographical representation, gender balance and youth representation. The group gave guidance on the process.
We need to raise the issue of gender justice with ourselves, our own organisations and the societies we live and work in. We also need to address local, national, regional and global decision makers. All this in order to see real transformation happen.
Issues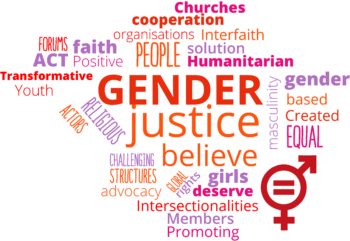 The fight for gender justice is multi faceted, including:
gender based violence,

rape as a weapon in war,

female genital mutilation,

harmful masculinities,

the unequal representation of women and men in institutions all over the world,

the added burden women feel when they are hit by climate change,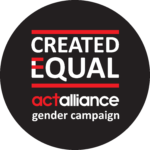 We want to show that we address gender justice in everything that we do, and hence we wish all activities related to gender welcome as part of the campaign.
The content of the campaign will be contextual so that the different realities that we face in different regions and countries can be addressed. Globally we will identify some areas where we want to move forward together.
Please feel free to add the logo to your gender work to show that we are part of the same movement.
Videos
Representatives from Yakkum, Indonesia attend the GPDRR meeting in Geneva from ACT Alliance on Vimeo.
Key Documents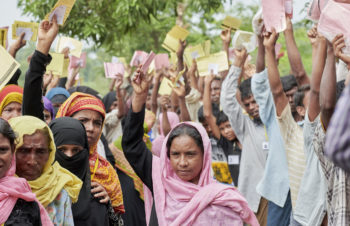 The ACT Assembly in Uppsala, October 2018, gave us a new strategy and public statements to build our work on. The new 8 year strategy was approved, with gender justice as one of five programmatic priorities. Gender justice is a central element in the main message from the Assembly, a separate gender statement was passed as well as a statement on gender justice in Latin America and the Caribbean specifically. In addition, the Gender Justice Policy approved by the governing board in 2017 was affirmed by the Assembly. See all statements, including in French and Spanish versions, here. The ACT Alliance also has Gender Security Guidelines that cover threats to men, women and LGBTI staff.
Campaign Activities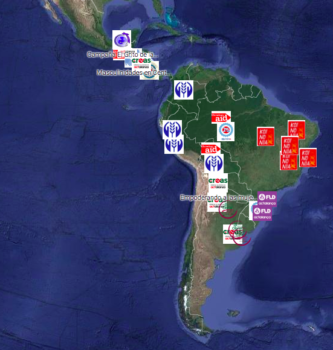 As Created Equal begins, our activities are focused on increasing the capacity of ACT members to engage in gender justice work, and in strengthening our existing work and sparking new activities. This includes:
Encouraging all members of the Alliance to adopt gender policies
Mapping our work on gender issues
Developing capacity building tools, discussion papers, and other resources
Advocacy at the Commission on the Status of Women and the Commission on Population and Development
Gender policy: what it is, how to implement and who to contact
An updated gender justice policy was approved by the ACT Governing Board in June, 2017 and affirmed by the General Assembly in 2018. All members of ACT are encouraged to make their own gender policy, and this is one of the key activities in the first phase of the campaign. Please read the policy here.
These are the 8 principles laid out in the policy:
Ensure gender balance in participation, decision-making, representation and staffing.

Ensure gender equality through gender mainstreaming in all strategic areas including programme design.

Adopt a board-approved gender justice policy.

Ensure training and capacity development provided for all staff.

Ensure that communities, partners and others are informed of the policy.

Promote strategies that guard against human rights violations perpetrated on the grounds of people's gender identity.

Ensure protection from gender-based violence.

Ensure access to sexual and reproductive health and rights.
Please contact the gender CoP for more information and guidance.
Gender Resources
Download a communications package including social media cards, the campaign logo, a two-page introduction to the campaign.
Please find a resource bank here where you can find organizational gender policies, thematic reports, theological reflections, manuals and other gender related resources.
We want to populate the resource bank with more material, please submit your gender related videos or written material to gendercampaign@actalliance.org.
Contact Us
Please email us to learn more about the campaign, or if you have questions or comments or resources to share!