Presbyterian World Service & Development (PWS&D), the development and relief agency of The Presbyterian Church in Canada, supports local, community-based development projects and responds with emergency relief in response to disaster and conflict. PWS&D also supports refugee sponsorship through local Presbyterian congregations.
PWS&D undertakes development, emergency and refugee activities that restore human dignity, ease the pain of want, promote self-help and encourage community cooperation that benefits all. All of this is done with sensitivity to gender issues, empowerment of the marginalized and the protection of human rights.
PWS&D promotes awareness of global issues, connecting Canadians to the needs of others throughout the world.
Noticias de los miembros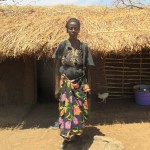 24 Mar 2016
In Mwepa, Malawi—one of the driest villages in the region—sources of clean, safe water were scarce. Vayiness Kawonga was accustomed to the laborious task of collecting enough for washing, cooking [...]