Swiss Church Aid is the aid organisation of the Swiss Protestant Churches and champions the cause of a more humane and just world. Its projects combat the causes of hunger, injustice and social distress, abroad as well as in Switzerland. The dignity of every human being is central to our commitment.
Our work is guided by Christian values and the universal human rights. They also inspire our organisational culture. Swiss Church Aid bases its work on values like justice, self-determination, solidarity, responsibility, participation and respect.
Our international cooperation focuses on development of rural communities, conflict transformation, humanitarian aid and church cooperation. We operate in 17 countries or regions through coordination offices with our own local staff. Project work is implemented mainly by local partner organisations. Projects aim at promoting and fostering autonomy and self-determination of beneficiaries.
Noticias de los miembros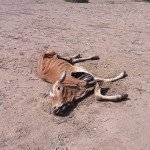 05 Abr 2017
A couple of weeks ago, I visited Borana area in Southern Ethiopia. I travelled to the different Kebeles «villages» of Yabello, Miyo, Elowaye and Moyale districts. One can easily witness the [...]