Le Réseau des Enfants et Jeunes Africains pour les Droits Humains (REJADH) est un réseau de jeunes femmes et jeunes hommes de 13 à 30 ans issus de plusieurs pays caractérisés par des situations de conflit ou post-conflit : la République Démocratique du Congo, le Burundi, la Somalie, le Sud Soudan et le Mali. Malgré les différences culturelles, les différences religieuses, les différences de langue et la distance qui nous sépare, nous poursuivons un même rêve : l'élimination de toutes les formes de violences basées sur le genre. Dans chaque pays, nous mettons en place des stratégies et des plans d'action différents, mais le plus important c'est que nous travaillons dans une même direction.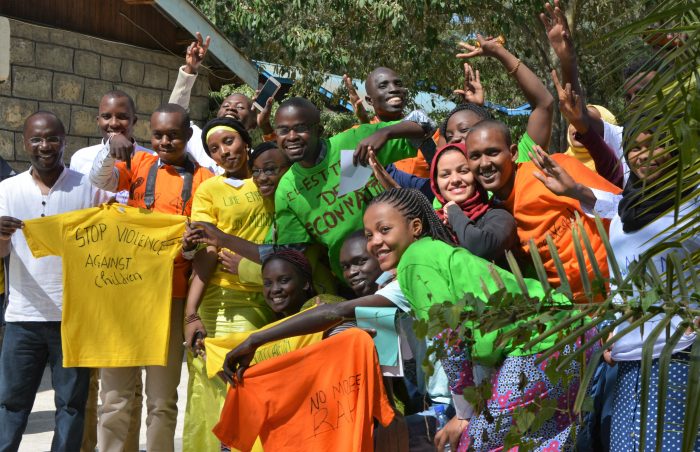 « Moi, Léontine*, je suis une fille très renfermée et toute ma famille se demandait comment la fille joviale que j'étais été devenue aigrie. J'étais perdue à cause d'un viol que j'ai subi et j'avais peur d'en parler, mais j'ai fait la rencontre d'une bonne amie qui m'a parlé de leur réseau de jeunes qui lutte contre les violences basées sur le genre. Je me souviens très bien que ce jour-là, j'ai rigolé en me disant que personne ne peut m'aider à dépasser ce que j'ai vécu, mais j'ai pris la décision de rejoindre le réseau quand même pour voir ce que ça donne. J'ai vraiment été surprise. Grâce à REJADH, aujourd'hui je redeviens petit à petit la personne que j'étais, et je peux compter sur beaucoup d'amis de plusieurs nationalités qui me donnent des conseils dès que je leur demande et sur tous les sujets. »
Avec le soutien de Norwegian Church Aid, membre d'ACT Alliance, d'ARIGATOU International et de Changemaker Norway, nous avons développé nos capacités en plaidoyer. Nous réfléchissons par nous-même, identifions les problèmes prioritaires et développons nos propres solutions et stratégies. Au-delà du soutien des organisations non-gouvernementales, nous puisons notre force dans les liens d'amitié, les rires et les moments partagés avec les autres membres du réseau. Plus qu'un projet, REJADH est pour nous un espace de rencontre, d'écoute et de partage. Nous les jeunes, nous sommes les leaders d'aujourd'hui, nous avons notre rôle à jouer dans le développement et la mise en œuvre des politiques, et la responsabilisation des décideurs. Chez REJADH, nous prenons ce rôle à cœur.
*Le nom a été changé pour conserver l'anonymat
______________
REJADH, youth commit !
The African Youth and Children Network for Human Rights (REJADH – French acronym) is a network bringing together young women and young men from 13 to 30 years old from various countries characterized by conflict or post conflict situations: The Democratic Republic of Congo, Burundi, Somalia, South Sudan and Mali. Despite cultural, religious and linguistic differences and the distance that separates us, we chase the same dream: the elimination of all forms of gender-based violence. In each country, we set up different strategies and action plans, but the most important is that we work in a same direction.
"I, Léontine*, I am a girl who has withdrawn, and all my family was wondering why a happy girl like me became such a bitter person. I was lost because I was raped and I was scared to talk about it, but I met a very good friend who told me about the youth network she belongs to and which addresses issues of gender-based violence. I remember very well that this day, I laughed. I was telling myself that no one can help me get over the abuse I went through, but I took the decision to join the network anyway and see where it would take me. I was very surprised. Thanks to REJADH, now I am slowly becoming the person that I used to be again, and I have plenty of friends from various nationalities who give me advice as soon as I ask them and on any topic."
With support from ACT Alliance member Norwegian Church Aid, ARIGATOU International and Changemaker Norway, we have developed our advocacy capacities. We think critically by ourselves, we identify priority issues and we develop our own solutions and strategies. Beyond the support that we get from non-governmental organizations, we tap our strength from the friendships, laughs and shared moments with other members from the network. More than a project, REJADH is for us a safe space where we meet, listen and share. Us the youth, we are the leaders of today, we have a role to play in the development and implementation of policies and in holding accountable decision makers. At REJADH, we take this role at heart.
*the name was changed to remain anonymous