The 16 Days of Activism against Gender-based Violence is an annual international campaign that kicks off on 25 November, the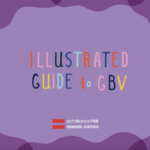 International Day for the Elimination of Violence against Women, and runs until 10 December, Human Rights Day. It was started by activists at the inaugural Women's Global Leadership Institute in 1991 and continues to be coordinated each year by the Center for Women's Global Leadership.
To join the conversation the Gender Justice Programme of ACT Alliance worked with a number of ACT Forums and members to produce an "illustrated guide to GBV".
The guide was launched on November 25 and will be promoted until December 10, the final day of the global campaign.
The reasoning behind the production of the guide is that words and definitions shape cultures, rights and social norms.
The way we define an injustice and the decision to use gender-inclusive language are political acts. Language has the ability to change the status quo and make our positions on gender justice manifest.
Gender equality in language is achieved when all genders are recognised as agents who are granted equal dignity, value and rights.Unpacking issues using a gendered lens is a step towards acting against systemic discrimination, rising fundamentalisms and gender stereotypes.
This work can only be meaningful if we recognise our responsibility as agents of change in perpetuating the problem.
Download the guide here