The following blog was adapted by a homily delivered by Jørgen Thomsen of DCA in Copenhagen Cathedral during the ACT Governing Board meeting.
The prophet Isaiah offers a comforting vision to the Israelites: "Violence shall no more be heard in your land, (nor) devastation or destruction within your borders" (Isaiah 60, 18). Inside this magnificent neo-classical cathedral that was rebuilt in 1817, we may tend to forget the deeper meaning of these words. But 10 years before the reconstruction of this cathedral, in 1807, on a dark September night, people here in Copenhagen knew very well the meaning of Isaiah's talk of 'violence', 'devastation' and 'destruction.'
England was at that time afraid that Denmark would join the French/Russian alliance during the Napoleonic Wars. To prevent that, an English army and fleet had assembled outside Copenhagen and besieged the city. They were all around the city – with guns, canons and rockets. They started a very heavy bombardment. For four long nights it went on and on and on.
During the night of September 5th one of the new powerful weapons, a 'Congreve rocket'– invented only 3 years earlier– hit the bell tower of the predecessor to this cathedral (from 1738). A fierce fire started and finally the burning tower collapsed into the main part of the cathedral and everything went up in smoke.
Big parts of Copenhagen were destroyed, over a thousand buildings burned, and many civilians lost their lives. Historians have called it the first 'terror bombardment' in modern history. And we know it was not to be the last 'terror bombardment'.
Later followed London, Leningrad, Dresden, Nagasaki and Hiroshima.
And as ACT people – who in recent decades have often been part of the humanitarian response – we know that many more followed: Sarajevo, Gaza, South Kordofan, Homs and Aleppo.
Always the same story: indiscriminate bombings of soldiers and civilians alike – regardless of international 'rules of engagement' and the 'obligation to protect'.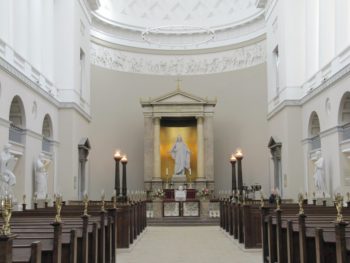 With the words of Isaiah's hope and vision in the back of our heads, we are now including – in the new ACT strategy – a new programme focused on 'peace and human security' – in humanitarian response, advocacy on high as well as low levels and long-term reconstruction, reconciliation and reintegration.
We do so, because our experience tells us that there is a need for it.
We do so because the Christian Gospel compels us, 'hope in action'; compels us, to engage. In word, in deed and in prayer. And we do so in gratitude for all the other people of good will with whom we can join hands to try and realize Sustainable Development Goal 16.
And we do so, with the words of another great prophet in our ears: St. John of Patmos. In Revelations, the last book of the New Testament he follows in the footsteps of Isaiah when he speaks of 'a new heaven and a new earth' that has come and is coming through Jesus of Nazareth:
"Look! (he says in chapter 21) God's dwelling place is now among the people, and he will dwell with them. They will be his people, and God himself will be with them and be their God. 'He will wipe every tear from their eyes. There will be no more death'or mourning or crying or pain, for the old order of things has passed away." … "I am making everything new!" (Rev. 21.3-5)