Building Churches for Future – Churches that are political
Fridays for Future is back in the public sphere. Friday, September 25th is the next global climate strike.
But how can we strike in times of the Corona Virus?
As huge demonstrations and gatherings are discouraged, young people have been considering other strategies, ways and places to mobilize people on climate change, because climate justice is still important. This message must remain in people's minds, even if we are unable to gather in huge numbers as before.
A peaceful revolution and climate protests
What place would be a better fit to amplify our messages and voices on climate justice on this day than the St. Nicolas church – the church of the peaceful revolution in Leipzig, Germany? This church was home to peaceful prayers that led to peaceful marches in the 1980s. It is where marches that contributed to a reunion of the separate German nations started. For many years, St. Nicolas church in the heart of Leipzig, Germany, has been known by Christians who engage in politics.
In 1989 St. Nicolas church was home to the peaceful revolution – and in 2020 it is home to protests for climate justice. Today this protest is visible to everyone, as banners with slogans have been placed all around the church.
We are calling for climate justice and for sustainable lifestyles. We are calling for a church that is also going to be a church to future generations.
The local Friday For Future group focuses primarily on public transportation and sustainability, and we urge the church and every human being to be a part of it. Climate justice and sustainability are not new topics for the church, they have been part of Christian life for decades. For instance, as part of the conciliar process, Justice, Peace and the Integrity of Creation.
Theology Students of the Leipzig University, (former) volunteers of the Leipzig Mission Center, students of church music and St Nicolas Church have all engaged in some way or another. Besides the banners and protests happening outside the church building, a prayer tree and regular devotion have invited people to reflect on the theological aspects of climate justice.
I am proud that Christians in Leipzig are speaking up on the need to care for God's creation. I am proud that the St. Nicolas church supports this call and has put itself the centre of this movement. It is a church that does not shy away from politics, a church that cares for current and future generations; it is a Church for Future.
Churches For Future
Churches for Future is an ecumenical alliance of churches and Christian institutions that stand in solidarity, and support the youth movement Fridays For Future. Churches need to be political and be part of the overdue changes in our economic and ecological world systems. Churches should care for our worldwide community. We see the impacts of climate change around the globe and we know how marginalized people and communities suffer. We need a church that is political and willing to fight for justice for current and future generations.
Season of Creation
Since 1st September, Christians all around the world have been celebrating and reflecting on the Season of Creation. It is a period of time that invites everyone to reflect on God's creation, and the ways that we humans treat creation. Similar to the peaceful revolution, where people of faith walked outside the church and marched on the streets, we are building momentum by bringing our messages of climate justice to the church, making them visible for everyone to see that, "yes, we care!"
Caring alone is not enough. I aim to make people aware of the urgent need to shift our lifestyles and politics, and also to act accordingly. The church also still has a lot of work to do to become more sustainable and to become Churches for Future.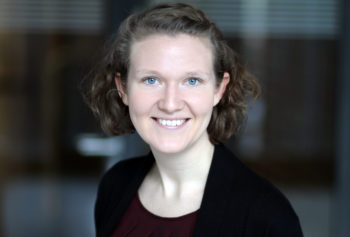 Blog is written by Helena Funk, Member of the Evangelical Lutheran Church of Northern Germany.
Helena has been engaged in climate justice advocacy for many years – at the local level in Germany and at the global level. She was a delegate of the Lutheran World Federation to the UN Climate Conferences COP23 and COP24 in cooperation with ACT Alliance. Helena is currently studying Theology and completing a Masters degree in African Studies. During the last years, she facilitated interfaith events on climate justice at her University, worked with YOUNGO at the UN High-level Meeting on "Climate Justice and Sustainability for All" in 2019 and participated in the 4th Laudato-Si Conference. Photo: Susanne Stark (DIE LICHTBILDNEREI)