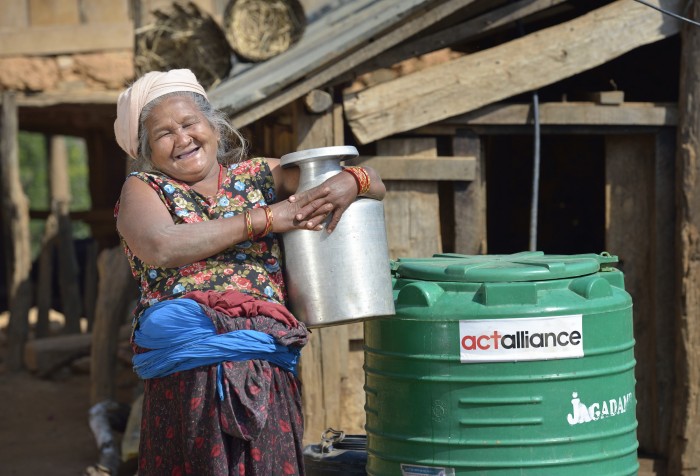 Tika Maya Pulami holds a water pot as she fetches water from a cistern in Salang, a village in the Dhading District of Nepal where Dan Church Aid, a member of the ACT Alliance, has provided a variety of support to local villagers in the wake of a devastating 2015 earthquake. The village's water system was destroyed by the quake, forcing women to walk two hours or more to a nearby river to fetch water. Working with a local organisation, the Forum for Awareness and Youth Activity, the ACT Alliance rebuilt the village's water system. Photo: Paul Jeffrey
As I read the Agenda for Humanity and await with eager anticipation the outcomes of the World Humanitarian Summit (WHS), I am first and foremost excited. Everything in me that got me working in this sector is celebrating the phrases in the UN Secretary General's report such as "Put people at the centre", "invest in local capacities", "Leave no one behind", "Stay engaged", "Commit to as local as possible"…the list goes on.
Then, my practical side kicks in. What will make these words a reality in our sector? How can we practically do this? How can we equip our staff with tools and resources to make the changes necessary at the frontline? What is our contribution, as ACT Alliance, to changing the system both within our own network as well as advocating for that change in the broader humanitarian system?
And then, my cynical side creeps in. Will these beautiful words on paper actually lead to change? Is the system we have created too big and complex to actually be able to put these words into action? Will the WHS mark a turning point in the history of humanitarian response, or will it be back to business as usual the day after it ends?
For us as ACT Alliance it is clear the change has to happen. The question is, what are we going to do to help bring that change about?
As my mind starts to swirl with the enormity of it all, I am encouraged by the steps of progress we are already taking, particularly in the area of quality and accountability which is my working area of responsibility. ACT Alliance is a founding member of the CHS Alliance and is working towards application of the Core Humanitarian Standard (CHS) in our humanitarian work. For ACT this very concretely means taking a detailed look at all of our systems and the programmatic responses that we fund and seeing how we can continually improve the quality, accountability and people management of those responses. It is about putting communities and people affected by crisis at the very centre of our response. It is about being clear about what can be expected from us, and being prepared to be held accountable to that from those that matter most – the communities affected themselves.
It's also about ensuring a level of quality in all that we do. As active members of the Sphere network, we are able to support our frontline responders with the tools and resources they need to ensure that their response goes beyond supporting mere survival and helps to ensure quality humanitarian assistance for life with dignity.
It's great to hear stories of ACT Alliance members providing training on the Core Humanitarian Standard and Sphere to frontline responders in Asia, but I ask myself, how can we enable more of that across the alliance in all regions of the world? Or in Ecuador, following the recent earthquake, we ask the question of our local responders – is cash being considered? And then also provide guidance to help not only make that decision but to implement in a quality way by linking to the resources of the Cash Learning Partnership, one of the latest Sphere companion standards. I ask myself, how do we change our processes in ACT to make sure that we always ask ourselves if cash would work in this context? And how do we put better learning systems in place to ensure that all our members have access to the best possible resources, as well as a network of practitioners around them to help apply them most appropriately in their context?
Ultimately, for me, the challenge is as much personal as it is organisational or even system wide. In other words, if changing the whole system seems close to impossible, at the very least I can start with me. What am I doing in my sphere of influence to put people in the centre, to turn the WHS commitments into action? Together I have hope that our different efforts can build a new picture for the future of our humanitarian work.
Yes, the system needs to be changed. What I'm hoping to come out of the World Humanitarian Summit is that every humanitarian actor, in whichever part of the system they find themselves, commits to contributing to that change. And not just by looking at other parts of the system and saying 'that needs to change', but by reflecting on how to be part of that change. And that starts with me.
__________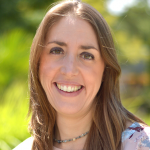 Sarah Kambarami is Head of Programmes at ACT Alliance in Geneva and has worked in the humanitarian and international development sector for more than 15 years. Prior to working with ACT Alliance, Sarah worked for World Vision International, gaining significant experience in Angola before supporting work in the Middle East, Eastern Europe and Asia as Regional Manager at World Vision UK. In recent years, Sarah has developed an increasing focus on quality, accountability and learning and has previously worked as an Associate Lecturer for the Open University in the Institutional Development module of the Development Management Programme.