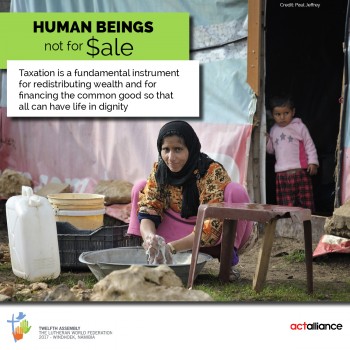 Deeply concerned by the current evidence of growing inequalities and their impacts on the lives of people everywhere, ACT members Bread for the World, Church of Sweden and Norwegian Church Aid gathered representatives of 25 churches and ecumenical organisations from 20 countries in Sigtuna, Sweden in January 2017. We met as people of faith to explore the role of the Church and the resources of diakonia in promoting just societies. We concluded that wealth must be shared fairly for the good of all and that social protection must be guaranteed as the right of all – so that no one shall be left behind.
The deliberations in Sigtuna resulted in a Statement on Theology, Tax and Social Protection, which provides a theological justification for taxation and social protection, and a call to action for the Church's response in this time of inequality.
Human Beings Not for Sale
ACT members will be involved in leading a workshop called DIAKONIA IN THE TIME OF INEQUALITY at the Twelfth Assembly of the Lutheran World Federation this month in Windhoek, Namibia. The Assembly gathers representatives from 145 member churches around the world to deliberate on the role of the Lutheran Church in the years to come.
We hope this workshop will be an important contribution to one of the main themes for deliberation at the Assembly: Human Beings Not for Sale. This theme reminds us that throughout human history, those with power have degraded the living conditions and dignity of those without. Societies that do not respect and uphold the dignity of all human beings are in danger of reducing human beings to objects, whose value is defined in financial and commercial terms.
Churches and faith-based organisations have historically been, and remain today, at the forefront of providing social services and support to those living on the socio-economic margins. We have a critical role to play in working for just societies and securing social protection for all.
The Sigtuna Statement affirms that publically funded social protection is a moral imperative and a human right for all, and particularly for those that have been rendered invisible by current economic and development realities. The statement also affirms that social protection is an essential requirement for a just society, regardless of a country's level of economic development. Taxation is a fundamental instrument for redistributing wealth and for financing the common good so that all can have life in dignity.
A Call to Action for Churches
The workshop DIAKONIA IN THE TIME OF INEQUALITY, which will be held on 13 May, will be an important opportunity to discuss and gather support for this call to action:
We call on churches and faith based organizations everywhere to stand up and demand for fair redistribution of wealth and social protection, as a matter of justice and human rights for all in the following ways:
Continue pioneering social services and support for those who are left behind, and challenge governments to learn from these innovations to improve public social protection.
Raise awareness and build local community support to influence policies and actions in favor of social protection, just tax systems and equality at all levels.
Use the voice of the Church to educate, inspire and transform peoples' attitudes and behaviors about tax and social protection in all sectors of society.
Commit to working with others in the public space and engage in relevant policy frameworks and debates to call upon:

National governments to guarantee social protection for all and to mobilize the necessary resources through fair taxation.
The private sector to recognize that major corporations and the super-rich minority are benefitting at the cost of the majority and that they need to honor tax and labor legislation and be transparent and accountable in their business practices.
The leaders in all sectors of society to support policy initiatives for a reformed financial architecture which promotes a more just and equitable redistribution of resources in line with the Common Good and to act upon the international responsibility to leave no one behind.
—–
Gwenneth Berge is ACT's Senior Advisor on Religion and Development