Over the past several months we have seen the COVID-19 pandemic spread across the globe. It is a crisis with far-reaching and profound consequences for the economy and for society. The devastating human health and economic impacts of the pandemic are exacerbated by climate hazards, which threaten communities around the world.
Countries are facing major climate-induced disasters and other hazards in addition to their ongoing response, prevention and recovery efforts to deal with COVID-19– from tropical cyclones in the Solomon Islands, Vanuatu, Fiji and Tonga in the Pacific to flooding and landslides in East Africa to typhoons in Indonesia. Climate-induced hazards, which have become more frequent and unpredictable due to climate change, are responsible for many natural disasters.
Kenyan example
In my country, Kenya, floods have affected over 810,0000 Kenyans, killed 282, displaced over 160,000 households and caused unknown damage to critical infrastructure since the long rains began in March this year. Heavy downpours are expected to continue in already hard-hit areas in the coming weeks, according to the Kenya Meteorological Services. Climate forecast maps across the world for the period April- June 2020 show that both above- and below-average rainfall is anticipated in many regions where COVID-19 is becoming prevalent but disaster preparedness is limited.
The usual response to the displacement of thousands of people affected by floods is temporary shelter in schools or community centers, or relocation to "higher" ground. However, such actions are not recommended at a time when physical distancing and strict hygiene measures are critical to containing the pandemic which has killed 55 people in Kenya to date. In addition to the COVID-19 pandemic and floods, Kenya is still reeling from the effects of the locust invasion that has devastated crops, negatively impacting food security.
How to respond?
In the midst of these crises lie opportunities to build back better and greener, and to protect the most vulnerable from the impacts while increasing their resilience to future crises.
First, I feel that Kenya needs to institute a multi-hazard disaster risk management approach towards preparedness for climate-induced hazards as we concurrently manage the spread of COVID-19. This includes reviewing various standards and protocols to integrate measures such as physical distancing, PPE provision, and adapting early warning messages to preventive behaviors during evacuations. In addition, Kenya must focus on strengthening the response capacity of its health system for potential double disasters.
Second, my country needs to institutionalize coordination and collaboration. Addressing multiple disasters calls for high levels of coordination between national government ministries, counties and partners at all levels. The double impact of COVID-19 and climate-induced disasters require integrated disaster risk management approaches with close engagement between health and other sectors. Managing such complex risks cannot be done by any single agency but must be a whole-of-government endeavor.
Third, finalizing and enacting Draft National Disaster Risk Management Bill, 2019 would provide a sound legal basis for effectively responding to simultaneous disasters that are spread across multiple sectors and levels of government. In addition, civil society organizations involvement will be crucial to scale up community preparedness, response and recovery measures.
Fourth, we must reduce vulnerability from COVID-19 and other hazards. Disasters compound existing vulnerabilities– often linked to gender, age, income, and health, among other factors. The impact of disasters and COVID-19 measures such as cessation of movements, curfews and lockdowns will have even more impact on already marginalized and vulnerable groups. Special focus on identifying and protecting the most vulnerable, including women and children, the elderly, and the poor must be prioritized.
Fifth, Kenya needs to support local efforts in disaster response and preparedness. Community members are the first responders to emergencies and yet often lack the resources to effectively respond. Curfews and cessation of movement will hinder community participation in response and preparedness actions by national responders. Inclusive participatory approaches are vital to overcoming crises.
Sixth, we must protect the first responders and frontline personnel. As with health workers responding to the COVID-19 crisis, disaster response teams, volunteers and humanitarian staff should also be protected from any exposure to the virus while supporting communities affected by climate-induced disasters through development of guidelines on how they can protect themselves from COVID-19 and access to appropriate PPE and training in best practices for protecting themselves.
Finally, Kenya needs to invest in building back better the Ksh 540M Greening Kenya Campaign under the Ksh 54 B 8-point economic stimulus programme announced by H.E President Uhuru on 23rd May, 2020 is commendable and a step in the right direction, as is Ksh 1B for flood control measures. Greening the recovery stimulus packages will enhance resilience of communities in future by guaranteeing a healthy environment. Future recovery efforts must be linked to climate friendly and nature based actions for shared prosperity.
These measures could help to save lives and promote resilient communities in Kenya. All countries around the world must look at their own situation and find solutions that allow them to address climate change in the midst of the pandemic, and to work together to build a better world, ensuring that no one is left behind.
---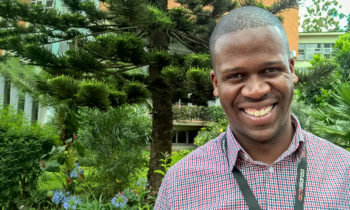 Mr. Arnold Ambundo has over 10 years' experience, and has worked with and continues to support Kenya's Disaster Risk Management and Climate Change efforts working closely with Government of Kenya ministries and departments and broad stakeholders that include CSOs in policy development and advocacy, capacity building, knowledge generation, coordination and programme management. Arnold currently serves as Climate Justice Project Coordinator for the ACT Alliance.