November 9, 2021

Today Gender will be an important part of the COP26 agenda.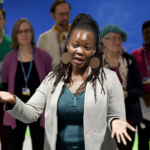 For strong visuals and knowledgeable quotes/points you can use in your stories on Gender, join ACT Alliance, Christian Aid and members of other faith-based organisations for an action in the Blue Zone.
We'll have visuals and stories to illustrate how important a gender perspective is in achieving climate justice, especially for Global South women and girls in all their diversity. By demonstrating how difficult it is for Global South women to be heard at COP26 negotiations, and by telling their stories, we'll show why it is:
Urgent to focus on gender justice and climate change at COP26

Important to promote women's leadership on climate change, and to

Ensure gender is mainstreamed in all COP26 outcomes, and

Guarantee that the Gender Action Plan is implemented in ways that are transformative and intersectional
When: Tuesday, November 9, 2:00 pm.
Where: Zone D, between pavilion 4C and 4D
Interviews are available with:
Fionna Smyth, Head of Global Policy and Advocacy, Christian Aid

Patriciah Roy Akulloh, Uganda. ACT Alliance Climate Justice Reference Group Co-chair

Dawit Beza Demissie, Ethiopia. ACT Alliance
MEDIA CONTACT: Simon Chambers, ACT Alliance, +44 7423 277 440