As we are gather in Marrakech for COP22, let us remember the innumerable women who are climate refugees or displaced, and the women who have lost their livelihoods and lives due to climate change. Gender justice is central to climate justice. And women's leadership is central and crucial to climate justice as they are more vulnerable and affected, and least involved in deciding the future of the globe. We call the leaders of every country to include women in every step of this urgent work.
The mandate of action plan on gender created at the COP in Lima has been extended. This calls for mainstreaming gender and human rights in all of the processes. Therefore, let us lobby for the appointment of national gender focal points. Let us also work on nationally defined contributions (NDCs) to ensure they include gender and human rights as the NDCs of only 62 countries do not reflect this position.
Let us not see women as only a vulnerable group but also as key partners in our endeavours to confront climate change. We need to advocate to override gender based injustice reinforced by cultural practices at all levels – grassroot to international level. Let the climate justice issue not be confined to the negotiation tables as only a technical issue beyond the knowledge of the grassroot women. It is important to ensure that the legal document reflects the everyday experience of those suffering the impacts of climate change.
______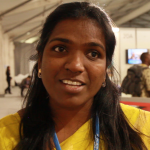 Joycia Thorat works for Church's Auxiliary for social Action in India.