When the world's states convened at the climate summit in Marrakesh, Morocco, a few weeks ago, 47 of the most vulnerable countries in the world stood up and made a pledge. They want to switch to 100 % renewable energy. A total transformation of their economies and development, pushing coal, oil and gas out of the energy market. This is wonderful news for the climate, and a great leadership in a world where most countries are starting to look for pathways towards a green and resilient future.
But when the pledge is made, the next question is posted. How will this be done? And how can it be done in a responsible manner? I have one important recommendation.
Governments and investors must respect human rights
Energy projects tend to be big. A new solar power station in Morocco, called Ouarzazate, will cover more than 2500 Hectares of land. The almost completed wind power project at Lake Turkana, Kenya, with a large number of big windmills, will drastically change the local scenery.
When large energy projects are produced in developing countries, there are high risks involved. In most local communities, there are already people living on the land, and they have fundamental rights. Sadly, experience show that many of these rights may be violated when big investments are made. People are forced to leave their land, and investments may have effect on traditions, production and livelihoods. Human rights are universal, and they must be respected by governments, investors and businesses.
Actually, there is already a set of UN Guidelines for businesses and human rights, which set out the legal framework for governments and businesses to ensure that investments, such as wind and solar power projects, are developed without having negative impacts on local communities. Doing no harm is a prerequisite for doing good, and governments and investors must show responsibility to ensure this.
Cooperation and dialog is the way forward
Human rights and green transition are often seen as two clashing agendas, but they are in fact complimentary. Human rights protection is an enabling factor for good investments. Everyone in the world, including the poorest people, should have access to renewable energy in the future. This is important; to make sure their human rights are fulfilled. However, this will only be possible if large-scale investments are made in the coming years. The vulnerable countries, who stood up in Marrakesh and called for a full switch to renewable energy, have a big task ahead of them, and they will invite donors and businesses to invest. When they do this, they should take this historic opportunity to combine the call for green transition with a call for responsible investments.
One important principle is to consult, include and engage local communities in the process of developing new energy projects. If people are included from the beginning and exhaustive consultations and dialogue between public and private actors conducted – including governments, companies, investors and civil society – success will be more likely.
The green transition do not need to challenge human rights. On the contrary, green transition should be based on human rights.
_____________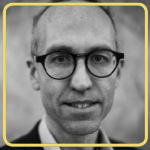 Mattias Söderberg, Senior advocacy advisor in DanChurchAid.