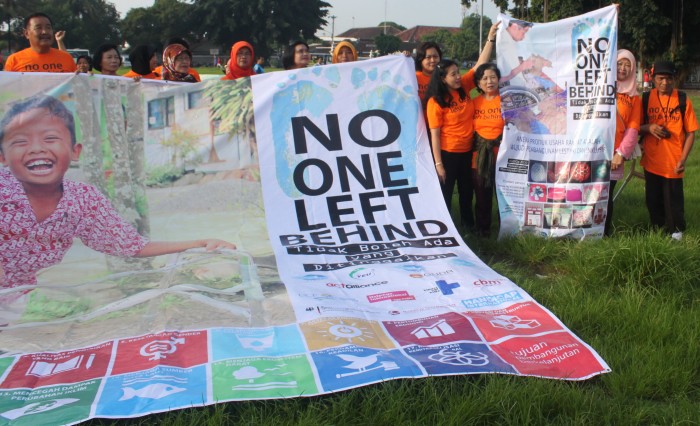 Recent Yakkum activities on national CBO meeting and rally with focus on No one Left Behind, and National Exhibition during International DRR day with focus on SDGs. Photo: Yakkum
Although the 2030 development agenda, based on 17 goals, were agreed by United Nations in September last year, you can still feel the enthusiasm of the world's development actors today – the enthusiasm to contribute, to make those goals and the dream a reality, to find a solution to solving different kinds of problems in their fields of work.
As a member of ACT Alliance my organisation, YAKKUM, is no exception. At the local level, in a very practical way we document best and bad practices of development activities in society as part of Indonesian Civil Society Coalition for post-2015 Development Agenda. At national level we mobilise representatives of victims of social injustice to have direct dialogue with policy influencers and policy makers, offering alternative approaches based on our field experience of what works and what is needed on the ground.
The Sustainable Development Goals have already become a global commitment. So what comes next? As development workers, we should see the SDGs as the foundational tool, which should be used to demand action and delivery on the promise already made by all UN member states. There are two key focuses that can help achieve this.
Firstly, gathering the power of civil society as the 'goalkeeper.' NGOs and CSOs so often become the implementers of development projects with and for the state. This will likely remain true in the implementation of the SDGs. This role as partners in implementation of development commitments is but part of the role of CSOs will play in the next 15 years. CSOs and NGOs also must hold governments accountable to their political, moral and legal commitments. This can be done through the initiation of public campaigns, mass rallies and events that specifically keep the focus on those who are typically left behind in development process.
Secondly, ensuring the regulatory, budget management, and institutional adaptation of SDGs in national constitution or legal systems. This could, for example, take the form of compiling a constitutional draft of SDG implementation and an SDG implementation toolkit for different areas, and should ensure that all stakeholders in the SDGs, at the national level, have space to contribute to National Voluntary Reviews on success or challenges to the SDGs.
The point is, the time has passed for us to have debates on development concepts. It is time for action, action, and action. The High Level Political Forum meeting currently underway in New York must ensure all countries to realise their commitments and that no one is left behind in the implementation process of the Agenda 2030.
____________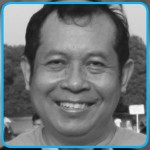 Sigit Wijayanta, Deputy executive board, former Executive Director of Yakkum, Christian Foundation of Public Health Indonesia, member of ACT alliance. He is now member of Advisory Group on Advocacy (AGA) of ACT Alliance, Chair of Advisory Board of Indonesian Christian Association for Health Service, and Board of Humanitarian Forum Indonesia. Special for SDGs he establish SDGs234.com. His PhD is in non profit management and health economics.