March 15, 2017 marks six years of the Syrian conflict. Since the beginning of the violence, ACT members have been providing humanitarian relief to affected people and communities in Syria and in the surrounding countries. Please join us in praying for an end to this conflict, and for peace for all those affected, including this Syrian refugee woman who shared her story with ACT member DSPR Lebanon:
"I am a Syrian refugee who fled to Jordan three years ago; I lost my husband during the war. I had to take my four children and escape. You cannot imagine the danger we faced and the fare during our trip. I lost hope and got depressed; my children started wetting their beds while they were sleeping. We struggled to secure our daily needs of food and if it was not for our neighbours who supported us we would be dead now. Now we live in Husn Refugee Camp with our friends. I was afraid to talk to people at the beginning and afraid what the future is hiding.
"I talked to one of my neighbours who told me to visit DSPR at the camp; they will be of great help to you. After great hesitation, I decided to go to the DSPR centre and met the centre supervisor who was very kind with me and allowed me to talk and express myself and offered me the chance to participate in a training workshop for 15 days called "Start Your Business." At the beginning I hesitated because it's a long workshop, but at the end I decided to participate.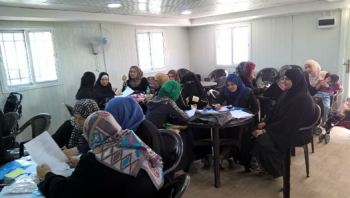 "We were 25 ladies, we enjoyed participating in such a workshop, we learned a lot about starting a small business, how to start it, how to market for it, how to calculate profit margin, and how to sell my product. At the end of the workshop we received a certificate that made me proud of myself.
"After the workshop, I started thinking of a real project that could support me and my children. I started producing whole wheat bread. With the support of my eldest son Suleiman, we started selling the bread to houses and small supermarkets. The income was small at the beginning but over time it increased due to high demand for such bread. The next step was buying a sealing machine to pack the bread and seal it for better quality and more income. Thank you DSPR Jordan!"