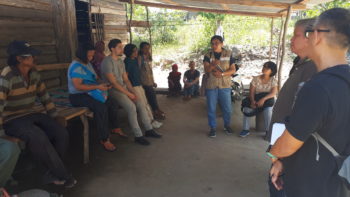 Michael Yudha
Church World Service's Leslie Wilson looks very energetic. Together with dozens of other elderly people, she dances and smiles to the rhythm set by the gymnastic instructor, Stevany, a Pelkesi nurse. These dancing seniors welcomed the ACT Alliance Joint Monitoring Visit (JMV) team who arrived in Simoro, Sigi Regency, on Tuesday, September 3, 2019.
Besides Simoro, Pelkesi has also served the community of Tuva since the Central Sulawesi earthquake struck the Sigi Regency area in September 2018.
ACT Alliance members Pelkesi (Indonesian Christian Association for Health Service; ICAHS), CWS (Church World Service) and YEU (Yakkum Emergency Unit) provided humanitarian assistance to the area through the ACT Appeal.
Pelkesi's Health Service and DRR
The JMV team tasted jamu, a medicinal herbal drink made by the Pelkesi health unit. On the many display tables that the villagers prepared there were various local chips and jamu. All of these products are the work of the Simoro Village women's group.
"We chose jamu as a healthy drink because of its nutritional and vitamin value. We provide training for the elderly and women in this village. Herbal ingredients are easy to get around here and they can also be planted by the locals, if need be," said Megawaty, a village midwife, smiling sweetly. She has served in Simoro for 3 years. Pelkesi recruited her as a health officer after the earthquake.
After tasting jamu and taking part in the dancing, the JMV team participated in a group discussion. Villagers were divided into three groups: village administrators and officials, the elderly, and health officers.
Although the services here focus on health promoting activities, Pelkesi also gives special attention to disaster risk reduction strategies. Villagers received first aid training, participated in simulations and received information on supplementary feeding (PMT) for babies. "After getting disaster training from Pelkesi, we realized the importance of prioritizing disaster risk reduction. We strongly support these efforts and therefore we budgeted first aid, simulation and PMT training activities in the village action," exlained Hery Pampow, mayor of Simoro.
Pampow then invited the JMV team members to each plant a tree in the village educational forest. "This place is used as an education forest where the community and children can learn about the functions of forests, the types of plants, their benefits and how to prevent potential erosion and landslides in the area around the village," Hery Pampow said with pride.
CWS Shelter
The next day, the JMV team visited the Church World Service shelter in the Sidera region.
Michael Koeniger, Country Director Indonesia & Timor-Leste, Church World Service, said that he was impressed with the participation and openness of the residents, who strongly supported the implementation of the shelter project so that it could be completed on time. "Shelter is a basic aid needed for a better recovery after a disaster. We hope that the use of this shelter can further motivate affected residents to work for to a better future, "said Koeniger in his opening remarks.
"Currently CWS is still distributing clean water while waiting for the well construction to be completed." Said Beno Peuru, CWS Operational Manager. Together with Beno and Michael, the JMV team inspected the drilling well site. The sound of diesel engines and drills is loud. From the here, you can see the Gawalise mountains extending like a giant fortress that encloses Palu bay.
Life in internally displaced people's camps after a disaster is hard. However, after getting shelter assistance and moving to more permanent houses, the affected residents feel safer. "Our children now look more cheerful. They like to play in groups because our houses are built close together. We feel safer and more comfortable living here," said Mrs. Dorce while sitting with the JMV team in a circle on her house mat floor.
"We want to start farming again soon: planting corn, pepper and vegetables. If the well is ready by spring, we can use it to irrigate the agricultural land around this house," Yohanes Rombe said.
YEU for Disability and Psychosocial
On day three, the JMV team arrived at Sudirman's newly built home. Sudirman has lived in Ngatabaru since he was born. Unfortunately he has been paralyzed from the waist down for five years. "I am grateful and thankful to YEU for providing permanent housing assistance. If not, I would still be living in a temporary barrack," Sudirman explained.
There are two disabled people in Ngatabaru who received permanent housing assistance from YEU. The artisans of Ngatabaru were involved in the construction process "YEU provides carpentry and building training to villagers. My wife and I help supervise the work and select materials used," Sudirman continued.
A total of 50 permanent houses specifically designed for disabled people will be built by YEU in three districts; Palu, Sigi, Donggala. "The concept of the houses we build is inclusion. We provide these houses with disabled access facilities and universal toilets. Work is carried out in bulk and involves the villagers themselves." YEU's information and communication staff gave a brief explanation of the project to the JMV.
Before the earthquake's devastation, Ngatabaru had plans to build drainage channels along the village's main road. The waterways are important to prevent rainwater overflows and protect the road body from erosion. However, the plan had to be canceled to prioritize post-earthquake emergency response activities.
The village of Bangga experienced a worse fate. Many houses had already been destroyed by the earthquake, flash floods destroyed Bangga completely. More than 400 families were forced to live in internally displaced camps because their houses were levelled by massive flash floods in April 2019.
"Many of our residents are stressed. Two people committed suicide," said Dewi, the head of the RT (Rukun Tetangga; groups of household) in Bangga.
"YEU provides psychosocial services anddisaster risk reduction training. We have a map of threats and vulnerabilities but it's not enough. We need capital for business or work. Our village can no longer be inhabited and we must join the relocation programme from the government," Dewi said quickly and straightforwardly.
From the results of discussions between the JMV team and a number of Bangga residents, it appears that a number of humanitarian organizations have carried out emergency responses in various forms, from WASH facilities, tents, cash assistance to health and psychosocial services.
"After a disaster, it is better to immediately coordinate between the aid agencies and the local government, then create a service intervention matrix. This way we can systematically map the needs and the assistance provided.," advised Leslie Wilson. A number of residents and the Bangga government officials welcomed Leslie's suggestion. "Yes, that should be the case. The support of NGOs is crucial and much needed to show the government the gaps we are facing. The government has frequently conducted surveys and data collection, but we haven't seen practical results," said Jaya, Head of Bangga development section.
After visiting Pelkesi, CWS and YEU projects, the JMV team held a coordination meeting and shared their findings. "There has been a lot of progress, but much more needs to be done. I think livelihoods are also a major problem that we must pay attention to," Leslie Wilson said.
She was very impressed with the spirit of life and optimism shown by the residents of Bangga. Despite the repeated disasters, the resilience of the people was not buried with their homes.