Working in different parts of Asia and the Pacific, and having different focuses within gender justice: the Chair and Vice-chairs of ACT's new Regional Gender Community of Practice for Asia and the Pacific reflect the various faces of this fundamental strategic goal in a region representing more than 60 percent of the world's population.
ACT Alliance's Communities of Practice (CoP) create and support spaces within the alliance for members to work together on issues of common interest and concern. ACT recognises knowledge and learning as a key asset to the alliance and seeks to provide ways for members to work together as learning organisations. ACT CoPs are established to nurture this process. In spite of the COVID-crisis, the Regional Gender CoP for Asia and the Pacific has just been launched in online meetings, and the Chair and Vice-chairs were elected on May 7th 2020.
The new Chair from South Asia
Joycia Thorat, the new Chair of ACT's Regional Gender CoP, earned her PhD for the thesis on "Gender differences, leadership style and contribution to social justice: A study of global ecumenical leaders" in October 2017. Having been working with the Church's Auxiliary for Social Action (CASA) in India for 20 years, she has deep knowledge of the grassroots work CASA does in about 6000 Indian villages with a focus on the most vulnerable and socially excluded, including Dalits, Adivasis as well as differently abled and sexual minorities. Joycia is the gender focal point in all of CASA's programs, and a member of numerous organisations and networks fighting for equal rights in the country. She has represented CASA in many national and international conferences and is well-known from her years as Co-Chair of ACT Alliance's Advisory Group on Advocacy and Chairperson of ACT Alliance Capacity Development Initiative. Joycia is professionally and personally deeply committed to gender justice and ACT highly appreciates her engagement in this CoP.
Vice-chairs from Australia and the Pacific …
Belinda Lauria, as one of the two new vice-chairs, will be particularly focused on the influence of the church in civil society and the power of faith to address gender justice. She is Program Manager Quality and Compliance at Anglican Overseas Aid (AOA) and Gender and Safeguarding Focal Point for her organisation based in Melbourne/Australia.
Belinda works closely with international partners through an intersectional approach to gender with a strong focus on safeguarding. Her work includes accompanying partners to develop and strengthen gender equitable organisational practices through safeguarding policies, trainings and other knowledge resources that address gender injustice through locally-driven initiatives. She is actively involved in AOA's national and international networks, working collaboratively with key actors through working groups; building into the sector's evidence base to better understand and address gender injustice, namely within the Pacific. Belinda has developed and facilitated baseline studies with local church partners in the Pacific, focusing on attitudes, beliefs, social and spiritual systems that reinforce and perpetuate harmful beliefs and behaviour, as well as the role of local faith actors as influential persons in promulgating and sustaining the advancement of gender justice.
… and East and Southeast-Asia
Ilse Paakkinen, the second Vice-chair, has been based in Hong Kong since November 2017 with the Finnish Evangelical Lutheran Mission (Felm) and has been working as the organisation's gender justice adviser since 2019. Having a doctorate in theology with a background in history of philosophy and gender studies at the University of Helsinki, she is particularly interested in theoretical models and the theological basis of gender justice and human rights. Gender Justice is a crosscutting theme for Felm. As the organisation is active in Hong Kong, Taiwan, Laos, Cambodia, Thailand, Myanmar and Nepal, Ilse will be able to share experiences in East and South East Asia with the CoP.
Ilse also has global responsibilities. She is active in working in projects and with partners on PME (planning monitoring evaluation), developing Felm's new manual for project work and training both the personnel in Felm and partners. A training toolkit she is compiling will be used by colleagues globally.
The ACT Alliance is convinced that with this leadership, the regional gender CoP will further advance in sharing knowledge and experiences and hence in learning how to achieve stronger gender justice in Asia and the Pacific as well as world-wide.
Any interested staff of ACT's member organisations are most welcome to join the CoP's next meeting on Friday July 10, 1 pm Bangkok time. If you would like to participate, please kindly email us: asia-pacific@actalliance.org.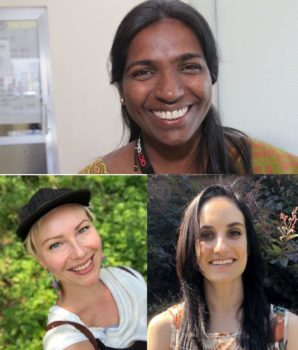 Joycia Thorat (top), Ilse Paakkinen (bottom left) and Belinda Lauria (bottom right).