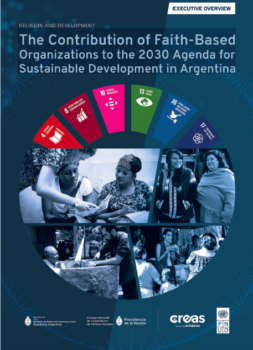 A new report on the role of faith-based organisations in achieving the Agenda 2030 was released this week by UNDP and ACT Member Creas with the support of the the Government of Argentina. According to "The contribution of faith-based organisations to the 2030 Agenda for sustainable development in Argentina", it is clear that governments cannot achieve the SDGs unless they are able to establish active partnerships with civil society.
A critical role in addressing humanitarian and developmental challenges is played by FBOs whose holistic approach is based on human dignity.Religious leaders and actors bring to the table an ethical and moral dimension which facilitates constructive influence.
Although focused on Argentina this publication is a testimony of the work of religious practitioners and responders all over the world who contribute every day to the achievement of the SDGs.
Addressing complex global challenges, including extreme poverty and climate injustice, is not possible without an approach that takes into consideration moral values, which many times are rooted in faith.
FBOs and religious actors have proven how sustainable and fair development is not possible without ensuring that every voice is heard.
This publication is a valuable resource that offers a framework of action for achieving Agenda 2030 and a pragmatic approach for us to meet future challenges in our humanitarian and developmental work.