ACT member, The National Council of Churches of the Philippines (NCCP) launched a youth climate art contest as part of an initiative to engage more young people in climate advocacy.
The competition titled, "Churches Unite for Stewardship and Rise for Life: Climate Justice Now!" was hosted in partnership with Kalipunan ng Kristiyanong Kabataan sa Pilipinas (KKKP). The competition featured two categories: poster (freehand and digital) and song-making and was open to people aged 13 -30 from NCCP and KKKP member and associate churches and organizations.
ACT Alliance had the opportunity to connect with Twenty-four-year-old Kjerrimyr R. Andrés, winner of the digital poster-making section.
Why is taking action on climate change important to you?
"What really bothers me is that rising sea levels will submerge cities and small island nations around the world. As someone who lives in Metro Manila (many areas in Metro Manila are below sea level), I fear the threat that climate change poses on the places that I love," says Kjerrimyr R. Andrés.
Please tell us a bit more about your piece.
The church people are united and voyage with the Filipino masses for climate justice. They carry different calls and act to protect their environment and ancestral lands, to stop destructive activities such as large-scale mining, and to assert justice for the victims of Typhoon Haiyan. The voyagers surrounding the islands symbolizes their efforts to go into communities for proper and fair investigation coming and to push for climate action. They also surround the archipelago to protect its territories.
Through the drawing, I explore how different sectors, including religious peoples and national minorities, are essential in caring for the environment. People can move from place to place around the country, and in doing so, they can gather concrete information, best practises and can be in solidarity with people's environmental concerns.
When did you realize that action must be taken on climate change?
Through the years, I have seen the news describe the ways that worsening typhoons were hitting the country, I have watched documentaries on climate change. My realization of the need to take action on climate change happened gradually.
I was also inspired during my high school years. The Patron Saint of the school was Saint Francis of Assisi, and as a result, the school instilled in us the importance of caring for the environment. During that time, I volunteered with local task groups to pick up litter and clean the environment.
What message do you have for youth around the world?
Individual action, although essential, can be very limited. We must act collectively and hold to account those who are the key contributors to climate change. This includes large corporations that have incurred numerous violations. We should transition to a system that is not overdependent on consumption and corruption. Collective action is a must – our future is our collective concern.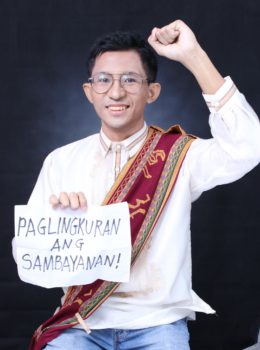 Kjerrimyr R. Andrés is currently the National Spokesperson of the Student Christian Movement of the Philippines (an associate member of the National Council of Churches of the Philippines).
@TheKejOfGlory