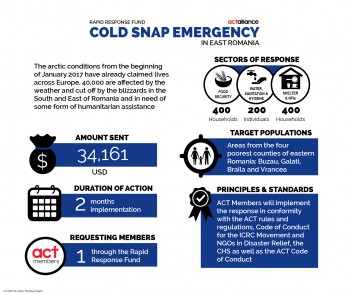 Romania was one of the countries hit hardest by the cold snap which began around Europe in late January, associated with heavy snowfalls and a deep freeze. Thousands of people were trapped during January for long days in the Southern and Eastern parts of the country. Many elderly people died from hypothermia after temperatures dropped consecutively to -25 degrees Celsius for more than a week. More than 40,000 people were affected from 250 villages in 17 counties of Romania.
Read the ACT Rapid Response Fund HERE
ACT Alliance Response
Within the first days of the disaster, a needs assessment was immediately undertaken by the Field Work Team of ACT member AIDRom Emergency Unit. There was high demand for fresh drinking water, bread, and canned food, as the provisions of the people were seriously depleted.
AIDRom Emergency Unit, together with the local community leaders paid special attention to promote solidarity within the communities between those severely affected and those less affected by the severe winter.
Thanks to the swift reaction of the ACT Alliance to the application of AIDRom for the Rapid Response Fund, AIDRom Emergency Unit, a shipment of 400 consistent and quality family food and mineral water parcels as well as 200 family hygiene kits were brought and distributed in the affected, isolated rural communities from the targeted areas.
Outcomes
The assistance provided by AIDRom through the Rapid Response Fund met the most urgent needs of the victims in terms of nutrition and hygiene.
Food Security & Drinking Water: 400 households received food parcels, assisting 1.164 persons. 98% of them reported that the food received met their needs fully and alleviated their suffering. The exceptions were families with infants who needed additional specialized food.
Sanitation and Hygiene: 200 households received hygiene kits, which benefitted 587 persons. 96% stated that hygiene kits received met their needs fully. Again, the exceptions were families with infants who would have also needed diapers or elderly who were lacking incontinence diapers.
Non-Food Items: 400 households received clothing of all sorts according to the composition of the family (men, women, and children) and reached 1.285 individuals. 80% of the people stated that clothes received met their needs. In some cases, the sizes of the clothing were not correct, but this was solved many times by people exchanging some of the items between them within the village (coats, trousers, pullovers).
Technical Assistance: 52 households were assisted with temporary loans of winter sleeping bags, appliances for home heating, dehumidifying equipment, and power generators, assisting in this way a total number of 148 persons, who showed 100% satisfaction for the opportunity.
We feel and believe that this program had a major weight in improving lives of many affected people. In the name of hundreds of people helped through this program, we would like to thank you in their names for the splendid way in which the ACT Alliance and its coordinating office helped to care about them and to express the most sincere and deepest appreciation for the fine spirit and hearty contribution. (Rev. Miklós Ménessy, Emergency Unit Coordinator)
Source: Ecumenical Association of Churches in Romania – RRF Final Report