Back home after one week of engagement in the 63rd Commission on the Status of Women (CSW63), I reflect with satisfaction my contribution as a first timer joining midway in the second week of the negotiation. A passionate gender justice advocate and an ardent 'Jesus feminist' I am very happy finally I got this opportunity to be 'in'.
When I arrived, New York City, and the power packed women and CSW process was too overwhelming, overpowering and inundating. I quickly equipped myself with all relevant & essential readings and updates from the past week through orientations which gave me the confidence to engage actively and effectively.
Though negotiations are the key and primary focus of CSW, ecumenical morning devotions add value and energy bars for the entire day's deliberations and negotiations. The morning NGO briefing gave a good overview and alerted us to the day's focus. Meeting a variety of vibrant, accomplished, struggling faith based and diverse types of women from across globe helped understand there is no one narrative for gender equality. But it was clear the stories of courage and struggle all reflected patriarchy of different levels and shades.
The regional caucus reiterated that we are local actors on this large stage of the global process. Here I could strongly pitch for climate justice text with my intervention which I further took up in the morning NGO briefing time too. I worked with a team from New Zealand to draft the climate text and passed it on to the key negotiators from Asia Pacific region. After all, if the world cannot exist due to climate change, where will gender justice be? Climate justice should be the backdrop for social security, public service and sustainable infrastructure– the focus theme of the CSW 63.
The numerous and diverse side events with diverging opinions, interesting facts & figures, research & story telling definitely added color to my enthusiasm and inspiration. A UN workshop to identify ways to encourage active participation of civil society in the UN Women gave me the opportunity to share ideas like organizing country-level CSW preparatory events.
Though the agreed concluding document is not very transformational, I am excited about the enthusiasm of the negotiators and the civil society members who tirelessly worked on it. Short documents are desired, but imagine trying to include 160 countries' input on gender equality in one document. What is more important is each member state following the document in action, with civil society supporting this. That is the hope in action.
I was extremely pleased that the Church Center and ecumenical women were at the center of it all. I continue the work at my grass root communities with added and greater enthusiasm, counting the larger responsibility on the shoulders of faith feminists- I am one of them.
---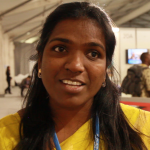 Dr Joycia Thorat , Co-chair of Advisory Group on Advocacy, ACT Alliance and Project Officer & policy desk in charge, Church's Auxiliary for Social Action (CASA), India