"In ACT Alliance, we recognise that it is the responsibility of governments to provide effective, inclusive, and affordable social protection. Social protection systems must be financed by states through fair taxation or other public revenues," said Rudelmar Bueno de Faria, General Secretary of the ACT Alliance, during his opening remarks at a side event at the 63rd Commission on the Status of Women in New York City.
"Governments can learn from the long-standing experiences of faith actors, who are often at the forefront of social service provision, providing more than 30% of social protection globally and having the experience of reaching those most at risk of being left behind."
Unlocking the Power of Faith-Based Partnerships: Enabling the Right to Social Protection was organized by members of the International Partnership for Religion and Sustainable Development, including ACT Alliance, the Side by Side Faith Movement for Gender Justice, the government of Denmark, the government of Canada, UK Aid, the World Council of Churches, the Lutheran World Federation, Islamic Relief Worldwide, Episcopal Relief and Development, Tearfund, World Vision International, Sonke Gender Justice, the Joint Learning Initiative, and USPG.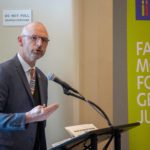 Ambassador Martin Bille Hermann from the Permanent Mission of Denmark to the UN underscored the importance of working with faith-based organisations, "The Danish government has worked with faith-based organisations for decades. They are a central pillar to how we approach development cooperation in a number of countries," he said. "Religious and cultural norms are key to advancing gender equality."
Axsa Charles Gabagambi, gender advisor to the Evangelical Lutheran Church in Tanzania and member of Side by Side Tanzania, spoke about the work undertaken by the church in her context, including working with both girls and boys in schools on gender issues. Teaching positive masculinity is key to achieving gender justice. "We prepare young boys to be better fathers when they come of age, we teach them about good relationships between boys and girls."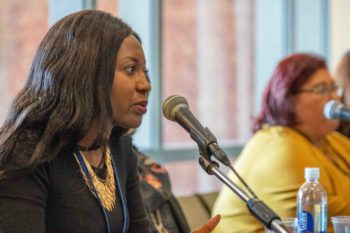 Axsa also underscored that it is the role of the government to provide social protection. "We recognize the primary role of governments is to provide social protection to the citizens. But I recognize the holistic mission of faith-based actors. There is space for partnership between the two. The role of faith-based organizations should be recognized, and they must be strengthened especially in countries with shrinking civil society space."
Speakers shared examples of the important role that religious leaders play in social protection, with examples from Rabbi Diana Gerson talking about the need for seminaries to include training on how to respond to disclosures of gender-based violence to Suzy Ismail of Cornerstone speaking about the importance of faith-based organisations working together in situations like the cases of Syrian refugees, where the options before girls are severely limited.
Dr. Isabel Phiri, Deputy General Secretary of the World Council of Churches, closed the session by introducing the Thursdays in Black campaign, which encourages people to wear black on Thursdays and wear a pin to show that you stand in solidarity with all those who want a world without rape and violence. "The campaign is simple but profound," she said. "Wear black on Thursdays. Wear a pin to declare you are part of the global movement resisting attitudes and practices that permit rape and violence. Show your respect for women who are resilient in the face of injustice and violence. Encourage others to join you."