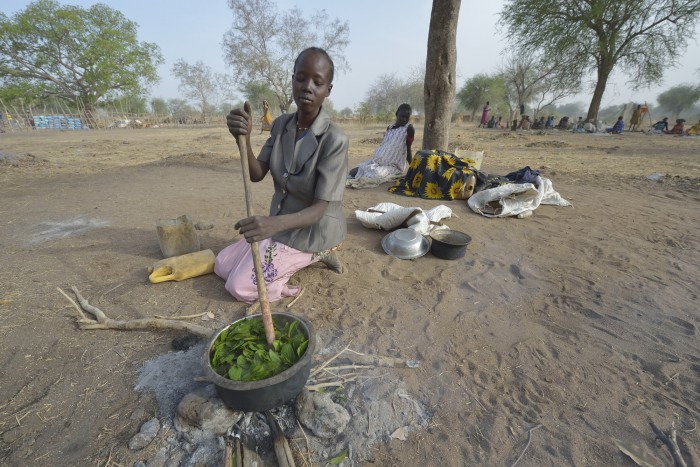 Nidier Atak cooks wild leaves in Rumading, a village in South Sudan's Lol State where more than 5,000 people, displaced by drought and conflict, remain in limbo. Credit: Paul Jeffrey
In South Sudan's Lol State, Nidier Atak sought to flee from the violence that swept through her village of Wanalel, where people already suffered from serial crop failures due to a persistent drought. Her husband had left the parched village in 2016 to look for work, but he didn't return. "He used to be a farmer, but for several years there has been no rain when we needed it. So he went looking elsewhere for work, but we haven't heard from him. He finds it painful to return home empty-handed," she said.
In January, Atak and her five children started walking to neighbouring Sudan, hoping that as refugees there they could obtain international assistance. After several days of walking, they got as far as Rumading, where they met other drought victims returning from the border with reports that it was closed to the passage of refugees. So she and her children camped out under trees, eating wild leaves as the rainy season approached. She says her husband doesn't know where they are.
"I don't know what's going to happen. Back home there was nothing to keep us alive. Going north is now out of reach. So we stay here and wait, though I don't know what we're waiting for," she said.
Within weeks a spontaneous settlement of more than 5,000 people materialized, all displaced people denied entry to Sudan. They drew water from a muddy pond and walked farther and farther into the bush every day to harvest wild leaves.
"There's nothing other than leaves to eat. My kids are malnourished, but there are no alternatives," Atak said.
In early April, ACT member Norwegian Church Aid, began drilling a well in the informal settlement and distributed sorghum, beans and cooking oil to the most vulnerable families. It carried out the emergency response in coordination with government officials and the local Catholic parish.
"People were there for three months, hidden in the bush before we became aware of them," said Father Paul Ariath, whose rambling Awiel-based parish includes the displaced. "There was too much hunger and people were dying. When I learned about them I talked with NCA, and they came and saw for themselves. They brought in some food, but it wasn't enough, and they brought in a big machine to start drilling for water."
Ariath says some of the displacement is due to conflict. He notes there are few men in Rumading.
"Many of the men have been killed fighting, or they are off on operations. There are too many militias in our land, and so there is a lot of fighting," he said. "Families flee from one place because of the war, leaving all their belongings behind as they escape with just their lives. And then the fighting soon finds them in the new place, and they have to flee once again."
The changing climate has been causing problems for years, the priest reports. "The rain doesn't fall easily like it did before. There's no flooding like we used to have. As the rivers dried up, the people slowly sold off their cows and goats in order to survive. But now they have nothing left, so they are forced to move," he said.
Ariath says when he speaks with the displaced, he encourages them not to lose hope. "I tell them to keep praying for help. That's why the ACT Alliance and the church are there. We come in response to the prayers of the people," he said.
_____
Written by Paul Jeffrey