The Christmas holiday is a symbol of joy, peace, light, and also – getting together, for most people regardless of their faith tradition. However, reuniting might be out of reach for many families divided by war. Despite the harsh circumstances, the essential mindset for survival is to keep hope and joy in sight.
Spreading joy became the mission of Svetlana Gamurar who after having fled Ukraine with her 5 children, found refuge in Romania, with the help of ACT member the Ecumenical Association of Churches in Romania (AIDRom).
"The kids can get to the basement in ten minutes but the rocket can get there in seven. That´s all I needed to know when asking myself this question: could I live with the burden of not being able to protect them? The answer was no. So we fled to Romania."
She now devotes her time and energy to being a children's choirmaster. Her efforts peaked with the performance of 60 Ukrainian children at a mid-December concert in Bucharest, "Christmas with peace – in souls and in Ukraine." The repertoire mixed Ukrainian "koliadky" with Romanian carols, bringing out positive emotions in the audience. The concert left some in the audience teary eyed, with soul-soothing tunes that help to ease a bit of the stress from the horrors of the war.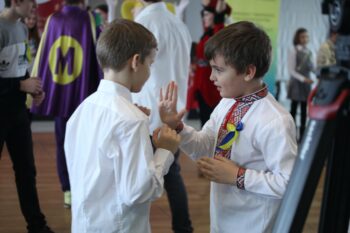 Pr. Gabriel Cazacu, coordinator of the Ecumenical Dialogue Department of AIDRom, shared this message of hope during the concert:
"We have come to thank you all on behalf of the Ukrainians who have been very welcome in Romania. Our carols express gratitude from the AIDRom Association. We assisted 60,000 Ukrainians during this crisis, and today we are taking care of 6,000 families in Bucharest. Here we have some of the representatives of these Ukrainians. They are wonderful, extraordinary children, who enjoy their time with our children during this period, to proclaim the birth of the Lord through carols. It is a joy! God bless all of you and may he strengthen your faith. Let's show good deeds by loving, forgiving, blessing, and rejoicing together!"
Staying warm and connected
Staying hopeful is vital for keeping a positive outlook, but those who stayed in war-torn Ukraine have other day-to-day issues on their to-do list: staying safe and warm, and fulfilling basic needs. The life of residents depends on the humanitarian aid provided by NGOs such as ACT ALLIANCE member the Lutheran World Federation (LWF) which has established "heating points" in cooperation with the local Youth Council in Kharkiv.
"Heating points provide an opportunity to warm up for those who do not have heating, or to charge their phones if there is no electricity at home. It is also a place where they can have an Internet connection thanks to Starlink (which provides Internet access via satellite) and generators, because when the light goes out, so does the mobile network," explains Bishop Pavlo Shvarts of the German Evangelical Lutheran Church (GELCU). This local LWF member church has been active in the region since the beginning of the conflict.
Adapting to long-lasting blackouts might be even more challenging this Christmas. For most families the chance to reunite can only happen with the help of the Internet and charged cell phones. Heating points are much more than opportunities to warm up; they are centres of reconnection in the dark of Kharkiv.
Not your ordinary Christmas
Ukraine's Christmas atmosphere is unlike that of previous years. Magic lights and festivities in the streets have been replaced by far more precious currencies – gifts of light and warmth, supplies of wood and food, and safety and survival.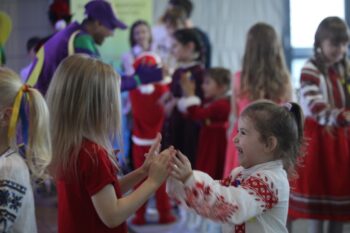 ACT member HEKS/EPER (Swiss Church Aid), which provides aid to Ukrainian refugees in Moldova, surveyed 50 people in three villages in late December about their Christmas plans. Not surprisingly, the need for connection is stronger than ever. Some will cross the border to reunite with their families.
When to celebrate Christmas has been a matter of heated debate in past years and surfaces again in the survey, amplified by the unusual circumstances of the Ukrainian people being dispersed to neighbouring countries. Some Ukrainians are happy to keep to their January 7th tradition, while others see this as a date "imposed during the Soviet times" and prefer "reverting back to the original December tradition." Some families have decided to honour both dates.
Refugees shared their views on Christmas traditions and customs when they gathered in the Support Centre for Ukrainian Refugees in Budapest for a Christmas party organized by ACT member HIA (Hungarian Interchurch Aid). The importance of family and keeping in touch – despite distances – was a common theme. So was reminiscing about the traditional wheat berry pudding known as "kutia" and the beautiful candlelit Christmas liturgy.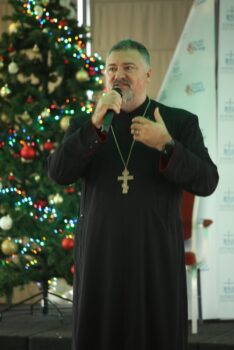 Bella and Alla, a couple from Mariupol, illustrate the mingling of traditions. Asked about when they'll celebrate Christmas, they say:
"Since I'm a Catholic and my wife is Orthodox, we celebrate on both occasions – the 25th of December and the 7th of January as well. It is a trend now in Ukraine to also celebrate on the 25th in accordance with western traditions, even in the Ukrainian Orthodox church."
Different families, different traditions. While some adopt the western style, and some keep their traditional ways they all have one thing in common – a secret wish that Viktoria voices on behalf of them all:
"To return home, for peace to come. These are the only things we all wish to come true here."
The Ukraine Response within the ACT Appeal

Emergency response for communities affected by Ukraine conflict in Ukraine and neighboring countries since the first day of the Russian invasion is carried out in collaboration with partner organizations. The full appeal is available here.
These include:
AIDRom (Ecumenical Association of Churches in Romania) – in Romania
CWS (Church World Service) – in Moldova
HIA (Hungarian Interchurch Aid) – in Ukraine (Lviv Zakarpattia Ivano-Frankivsk Zaporizhzhia Cherkasy Poltava Dnipropetrovsk Kyiv Chernivtsi Mykolaiv Sumy Ternopil Khmelnytskyi Rivne Kharkiv) and Hungary
HEKS/EPER (Swiss Church Aid) – in Ukraine (Odesa, Field Offices: Zaporizhzhia, Mykolaiv, Kharkiv, Kherson), and Hungary, Moldova and Romania
LWF (The Lutheran World Federation) – Ukraine (Czernichiv, Kyiv), Hungary, Romania and Poland

Above The Ukrainian Children's choir and their conductor appear on television for Christmas.