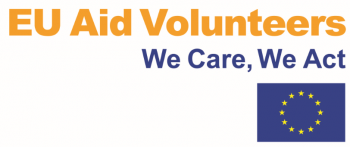 ACT Alliance builds the capacity of local communities through an EU initiative.
Lives can be saved if people in local communities know what to do before, during and after a disaster. This is why today (18 February 2018) ACT Alliance, in cooperation with European Universities and with the support of the EU Aid Volunteers initiative, starts a capacity training programme.
"Power through local action is what we aim for. With the climate change, our world is facing more violent storms and more erratic climate patterns than before. But a lot can be done to mitigate the impacts of disasters. If a community is prepared, it can cope", says Eija Alajarva, Head of Humanitarian Assistance for ACT Alliance member Finn Church Aid.
ACT Alliance starts to train local organisations working with vulnerable communities in Bangladesh, Cambodia, Ethiopia, the Democratic Republic of the Congo, Myanmar, Nepal, Uganda and South Sudan with funding through the Capacity Building Programme of the EU Aid Volunteers initiative.
The work is part of the 2014–2020 European Commission's Humanitarian aid and Civil Protection department (ECHO) initiative called EU Aid Volunteers, bringing together organisations from different countries and strengthening the local capacity of disaster-affected communities.
During 2016–2017, ten member organisations of ACT Alliance, a global coalition of faith-based humanitarian and development organisations, will train 64 local organisations working in eight disaster-prone countries.
The focus is to train local and regional trainers, as they will be able to spread their expertise well beyond the lifespan of the project. The training consists of approaches for reducing disaster risks, working on Emergency Preparedness and strengthening knowledge and understanding of Humanitarian Principles and Standards.
The training builds on the extensive experience of ACT Alliance work, as well as on the academic knowledge of the three university partners, the University of Copenhagen in Denmark, Wageningen University in the Netherlands and the CARITAS – College of Social Work Olomouc in the Czech Republic.
Training is done through blended learning, which integrates traditional in-person training to online training through an e-learning platform.
The local organisations can also obtain the EU Aid Volunteers Certification, which qualifies them to receive professional support from volunteers through the EU Aid Volunteers initiative.
To further strengthen local capacities, the consortium also plans to send volunteers, at the next phase of the initiative, to work along the local partners and support them to cope with and be prepared for disasters. Join us to empower local actors!
Through the EU Aid Volunteers initiative, from 2016 to 2020, altogether 4,000 EU citizens will get the opportunity to do humanitarian work. The initiative will also provide capacity building for 4,400 people from non-EU, disaster-affected countries, and 10,000 online volunteering opportunities.
ACT Alliance consortium partners
Europe: Christian Aid (UK), Dan Church Aid (Denmark), Diaconia ECCB (the Czech Republic), Finn Church Aid (Finland) and ICCO (the Netherlands)
South: RDRS (Bangladesh), Life With Dignity (Cambodia), Bureau Oecuménique d'Appui au Développement (Democratic Republic of the Congo), Church of Uganda, Ethiopian Evangelical Church Mekane Yesus
More information: Ulla Kärki, Communications Officer Finn Church Aid, ulla.karki(at)kua.fi
+358 50 576 7948