ACT member Amity Foundation, like many ACT members, collaborates with a dense network of volunteers all over China in responding to major natural disasters. For example, the staff of the Tongxinyuan Social Service Center in Hebi City joined Amity's relief response to the Henan flooding in July and August 2021. What does its founder say about the collaboration?
At the end of July 2021, heavy rain caused serious floods across China's Henan Province, a landlocked area in the central part of the country, around 800 km south of Beijing. The floods affected over 13 million people in 150 counties. 302 people died in the floods and 50 were declared missing. In addition to human casualties, million hectares of crops and infrastructure were destroyed, leaving millions of people in need for life-saving emergency supplies.
For this response, Amity worked closely with local communities and organisations, relying on numerous volunteers supporting transportation and distribution of the emergency supplies. Alone in the two transit depots in Xinxiang and Hebi, through which Amity was channeling relief supplies to the affected regions, more than 300 volunteers contributed their time and energy to support the logistics and help the people in need. Amity together with the volunteers provided support to over 50,000 families living in eight cities, 106 towns and 284 villages in the province.
Liu Hongpeng, the founder of Tongxinyuan social service center located in Hebi City, and his colleagues joined the Amity Foundation's flood relief response to the Henan flooding from 23rd July until August 3. Liu reflects on the collaboration among local organizations, their volunteers, and Amity.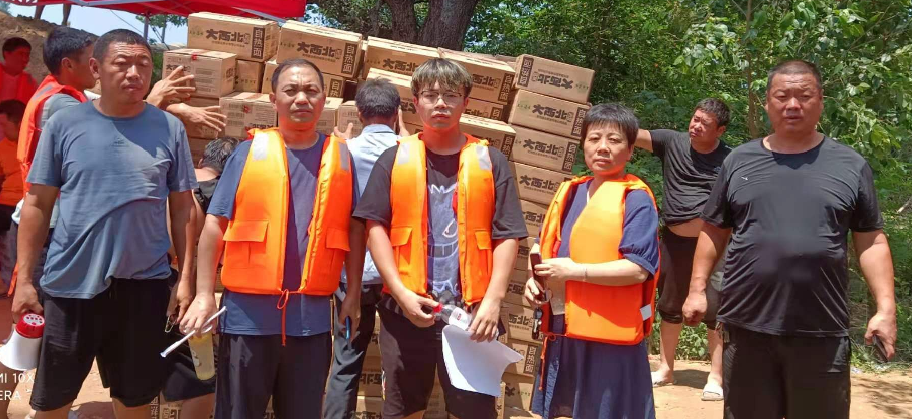 Liu Hongpeng (second from left) brought a number of generators, emergency lighting equipment, instant noodles and other supplies to Huangzhuang Village in Xun County.
Liu Hongpeng worked closely with Amity staff at the supply transit depot once it started to operate. Through the transfer station, the Amity Foundation cooperated with local social organisations, organising disaster relief logistics quickly and efficiently. Liu believed that this model of cooperation was sustainable and effective. "We are familiar with the local circumstances, and we can take the responsibility for assessing the needs and keeping close contact to all the stakeholders, while Amity is responsible for fundraising and procurement of supplies", he says. "Then we work together during the distribution and transportation process. Together we work perfectly in this way!"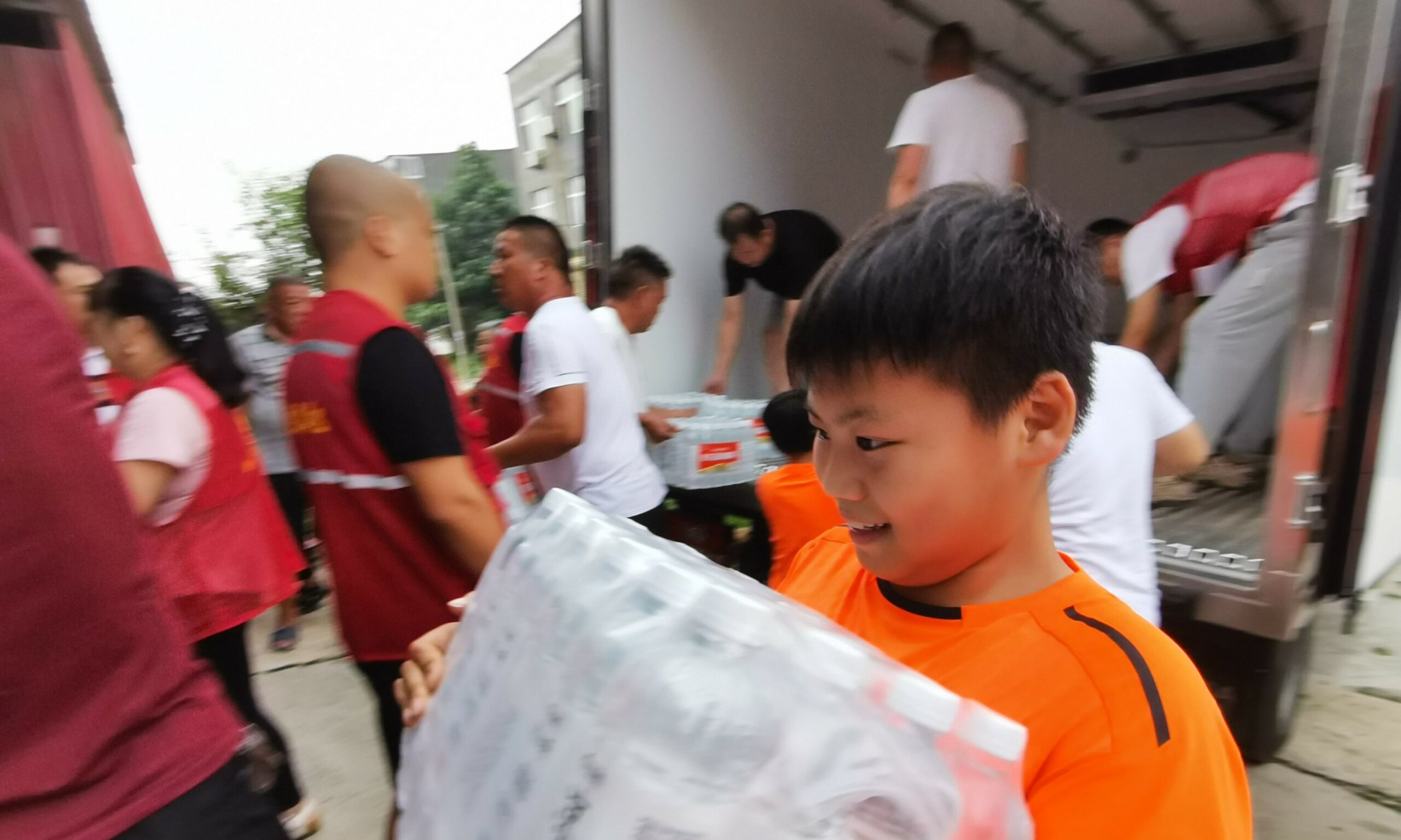 Boy volunteer carries water bottles from a truck
Inspiring collaboration
Liu appreciated the spirit of Amity staff and volunteers at the transit depots. "They are particularly hard-working, and not delicate at all! The weather was extremely hot these days. Regardless, the Amity rescue team still participated in the loading of supplies, as well as the procurement of supplies, registration, transport, etc. They always worked so diligently, during the hot weather and covered with sweat like raindrops." According to Liu Hongpeng, the Amity staff were not afraid of hardship and fatigue, inspiring the volunteers from other organizations. "Volunteers did not know each other, but in the transit depots, we all worked together just like strings twisted into a strong rope."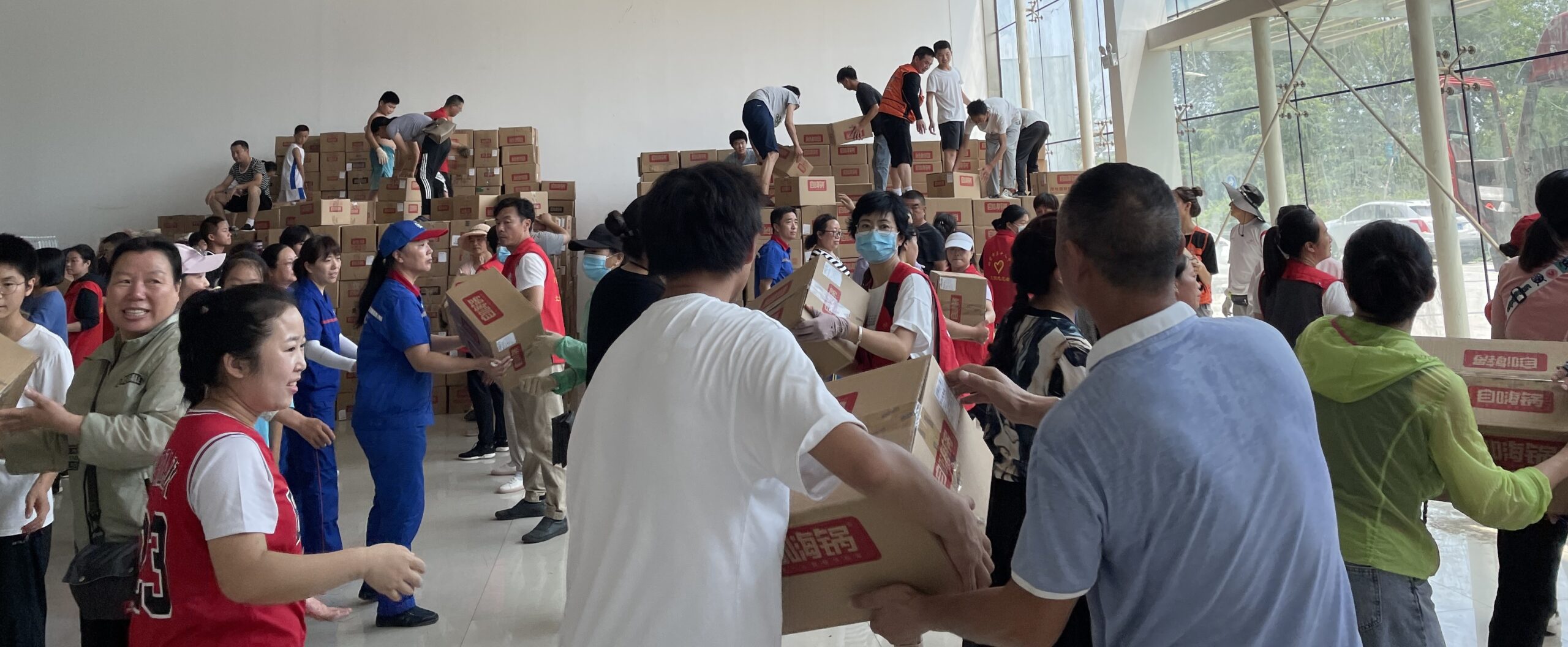 Volunteers team up to manage the relief at the Amity transit deports
Praising the fast distribution
'Pragmatism' is another word that Liu Hongpeng uses in describing Amity. "I've come across many public welfare organisations, but it's rare to find one as effective and pragmatic as Amity! Sometimes Amity set up distribution points at a village or resettlement site, or the rescue team distributed the supplies directly. In this way, villagers could receive the supplies as soon as possible. I think this way is quite good because the disaster struck suddenly, and we were not prepared beforehand. With complex traffic conditions, we had to deliver large amounts of supplies within the limited distribution time."
Liu Hongpeng believes that the adjustment of working approaches not only ensured the efficiency of the distribution of supplies, but also enhanced the collective decision-making and self-management capabilities of villages and communities. "These methods actually reveal that Amity members indeed care about the feelings of the people in need."
Liu's experiences
Liu Hongpeng has been committed to public welfare for more than 10 years. He has won awards and honors due to his commitment to public welfare. However, dealing with the sudden flood at the doorstep, Liu still found himself a little unprepared. "Fortunately, we could cooperate with the Amity Foundation, which has inspired us in terms of our own working philosophy, methods and details. Thank you, Amity! Later, I also checked the website of Amity Foundation, learning that Amity has been working in many fields of public welfare for years. I hope there will be more opportunities in the future to work together with Amity", said Liu Hongpeng with great expectation.