Europe acted like a dissonant choir when responding to the Trump administration's travel ban. Is this a surprise? Not really when one looks at the trend of EU's migration policies in the past two years: the erection of walls and international cooperation to keep refugees and migrants out of sight and out of reach. Is this the Europe that we want? ACT Alliance EU has joined 160 other organisations in asking European leaders to stand up for humanity and dignity and to foster and promote the European Union's commitments to human rights and international law at home and abroad.
The announcement of the "travel ban" by US President Donald Trump provoked mixed reactions among European leaders. A quick overlook at the various reactions offers an interesting snapshot of Europe's consensus on asylum and migration.
Federica Mogherini, the High Representative for Foreign Affairs and Security Policy stated at the European Parliament that "The EU will not turn its back on anyone who has the right to international protection". The German Chancellor, Angela Merkel lectured president Trump on the virtues of the 1951 Geneva Convention on the phone. French president François Hollande asked him to show a sense of responsibility. Theresa May who initially did not condemn the ban was finally pressed at the House of Commons to declare: "I've made very clear that this policy is divisive and wrong. It is not a policy that we would introduce".
Nonetheless, the ban found a positive echo in Central Europe. Support came from Hungary's prime minister, Viktor Orbán. The Hungarian government's chief spokesman, Zoltán Kovács already claimed Trump's election in the US was contributing to "a change of mood in Europe" that vindicated Orbán's tough position on migration. Meanwhile, Poland's foreign minister defended President Trump's immigration order, arguing that every sovereign country has the right to decide its own immigration policy. Writing on Twitter, the spokesperson of President Milos Zeman of the Czech Republic said Trump "protects his country" and called for the European Union to take similar measures.
The absence of unanimous condemnation is no surprise when one looks at the reality of EU's policy vis-à-vis refugees and migrants. We, Europeans, already have our "impenetrable, physical, tall, powerful, beautiful, southern border wall": the Mediterranean Sea. It is not actually that impenetrable, but is still dangerous enough that 5,096 refugees and migrants were reported dead or missing at sea in 2016 alone. Talking about walls, many have not waited to be inspired by president Trump's approach to build their own walls on their land borders. In 2015 alone, Hungary, Austria, Slovenia, Macedonia, and Bulgaria all started construction or announced plans to build fences. In the same vein, Norway built a steel fence at a remote Arctic border post with Russia to deter migration. A one-kilometer "anti-intrusion" wall was built in late 2016 to block access to the northern port of Calais for migrants trying to clandestinely cross the English Channel to Britain. Since the fall of the Berlin Wall, European countries have built or started 1,200 km of anti-migrant fences, costing at least €500 million ($570 million) –which represents 40% of the US-Mexico border.
On top of this, to deter the ones who would try to reach its continent, the European Union is entering into agreements with other countries where they agree to seal their borders and create the conditions for migrants and refugees to stay in these countries. This approach has huge financial and political consequences as well as human rights implications.
The EU-Turkey deal implies the disbursement of €3 billion funding which are designated for projects to improve the lives of refugees as well as of host communities in Turkey. To quote Gauri van Gulik, Amnesty International's Deputy Director for Europe: "The EU-Turkey deal has been a disaster for the thousands who have been left stranded in a dangerous, desperate and seemingly endless limbo on the Greek islands". It is presented as a success story by the European Commission and serves as a model for other deals.
Last month, the European Commission announced a plan to disburse 200 million EUR to be shuffled into border control and surveillance in the hope of containing people likely to attempt the perilous Mediterranean Sea crossing in the upcoming months. Concerns were raised by civil society organisations,including ACT Alliance and ACT Alliance EU: the decision to transfer the responsibility for managing migratory movements along the central Mediterranean route to Libya will neither reduce human rights abuses, nor end smuggling. Instead, it will significantly increase harm and suffering.
These examples show that instead of countering the rise of xenophobic populists, Europe's response has too often been to copy their recipes and ignore voices offering sustainable, long-term migration policies that guarantee respect for people's rights. At the occasion of the European Council 9-10 March, 160+ organisations -ACT Alliance EU among them- reminded that Europe needs to be strong and faithful to its core values which are based on respect for human rights and international law. "Strength doesn't mean turning away those most in need. Strength is about showing a way forward that upholds values".
_____________________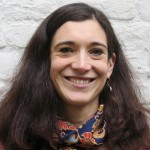 Agnès Bertrand has more than ten years' experience in EU external affairs and human rights. She is currently the European refugee crisis advocacy officer for the ACT Alliance, based in Brussels, Belgium, since May 2016 and was previously the Middle-East policy officer for ACT Alliance EU. In her current position, she is charge of advocacy to the European Union in relation to its policies vis-à-vis refugees. Agnes is holds a PhD in International law from the School of Oriental and African Studies (University of London) and a masters in European law from the Sorbonne. She taught international law at SOAS and external relations of the European Union at Science Po Lille.