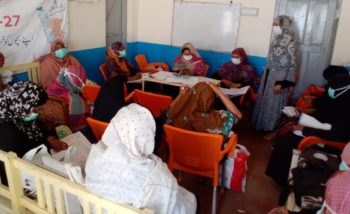 In coordination with the Health Department, District Administration and community member, through Health Management Committees and Village Health Committees, Community World Service Asia is implementing its MNCH[1] health projects in Umerkot and Sujawal districts of Sindh since 2015.
Citing the COVID-19 pandemic in the country, the health team is raising awareness as part of a larger effort to drive social change. The health sessions on coronavirus focuses on limiting movement and avoid gatherings to prevent spreading this further. Poor hygiene is an important factor in the spread of infectious diseases. For this reason, the sessions, delivered in local languages, provide signs and symptoms of the infectious disease. In addition, the community members are sensitized to take precautionary measures to reduce the spread of the disease.
To reduce the risks, people are advised wash hands with soap and water or alcohol-based hand wash. In addition to other precautionary measures, the community members are guided to wear masks and avoid close contacts in public areas, especially.
Community World Service Asia has organized 32 sessions with the project staff, health workers and people in the community. An estimate of 840 have actively participated in the health sessions.
[1] Maternal, Newborn & Child Health