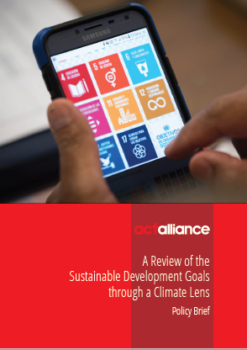 ACT Alliance's Policy Brief: A Review of the Sustainable Development Goals (SDGs) through a Climate Lens is now available for download in English and Spanish.
In 2015, the international community made an unprecedented set of commitments to pursuing a sustainable future through the adoption of the Agenda 2030 and its Sustainable Development Goals as well as the Paris Agreement on limiting global warming to well below 2° Celsius. The world set course for a transition to low-carbon, climate-resilient societies and economies, with countries working toward common goals while focusing on their national circumstances, challenges, and opportunities. Adapting to climate change is a key objective of the two agendas.
Climate change threatens many of humanity's biggest achievements as well as its future goals as reflected in the 2030 Agenda for Sustainable Development. Progress on SDG 13 on climate action is falling short of what is needed to meet the targets of the global agenda by 2030.
The brief explores various SDGs and presents a set of recommendations to strengthen the synergies between the Paris Agreement and the 2030 Agenda for Sustainable Development.
This policy brief is a product of ACT Alliance Global Climate Change Project implemented with the support of ACT member Brot für die Welt.