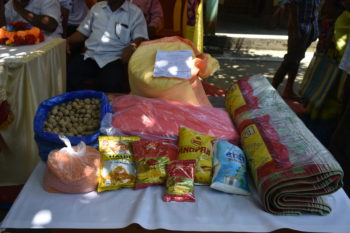 The monsoon rains in South Asia this year were overwhelming. Funded by the ACT Alliance's Rapid Response Fund, ACT Alliance member organization CASA assists vulnerable people in India to get through this extraordinary situation.
Emergency preparedness and response planning is a key element for the ACT Alliance, a coalition of 155 churches and faith-based organisations working together in over 120 countries. But during the heavy rainfalls this year in many parts of South Asia, the ACT members in India and Bangladesh decided to submit a proposal to access ACT's Rapid Response Fund. While CASA responded to the needs of the communities in India that were affected, the other members of the ACT India Forum engaged in emergency advocacy.
Searching for a way back to normal life
ACT Alliance's members support the most vulnerable people in any crisis-affected community. People like Yamuna Kumari[1] for instance, a young woman from Bihar in eastern India. She was expected to give birth in just 15 days, and had lost all hope. Her house in a small village in Bihar where she lived with her children was flooded. All the major rivers had broken their embankments. Dozens of villages were inundated which forced people to flee their homes and seek shelter at safer places. Yamuna was also worried about her other children's health. Luckily, she and her children were rescued in time and brought to a temporary shelter in a relief camp where CASA provides food.
"My house is in complete ruins; my children had no water or food and I am still not physically strong after the birth of my child. On top of that the heavy rains and flooding added to my misery", the young woman says about the past weeks. Yamuna realized only after her evacuation that she hadn't taken any personal belongings with her. "During such a period, there is always a sanitation, food and water crisis. Now at least I'm assured that my children are regularly being given nutritious meals. The relief material provided by CASA will sustain my family's needs", she states.
Daily wage earners are among the worst hit
Daily wage earners like Yamuna who already work on a meagre daily income and do not have any savings cannot earn anything at all due to the floods. What they earn is barely enough in best of circumstances to cover the basic needs, and they do not have the capacity to absorb adverse situations where their income is disrupted by natural calamities.
Being an agrarian economy, the majority of the inhabitants in the affected areas depend on farming for their livelihood. The agricultural lands have been completely inundated by the floods. In this situation, the additional support of lentils, rice, oil, tarpaulin sheets and cooking utensils distributed by CASA strengthens the ability of the people affected to overcome the situation. Moreover, ACT Alliance members consider generating awareness on health and sanitation issues which arrive after such disasters as just as important.
Thinking on a long term
Support from the ACT Alliance through its membership does not stop at providing immediate humanitarian aid. ACT is committed to building the resilience of communities, including Yamuna's, through strengthening local capacity on Disaster Risk Reduction and the engagement of communities in Disaster Risk Mitigation.
More and more humanitarian catastrophes like the floods in India are related to climate change. Besides humanitarian action and enhancing the resilience of communities, ACT Alliance's programme also includes advocacy and mobilisation for climate justice with a specific focus on the implementation of the Paris Agreement on Climate Change. "All countries must contribute to the global transition towards a low-carbon economy, reducing dependence on fossil fuels while delivering poverty reduction, and working with forest communities to conserve forests", says Isaiah Toroitich, ACT Alliance's Head of Advocacy and Development Policy.
Ensuring basic needs
By the end August 2019, a total of 1.88 million people had been displaced in India because of monsoon rains causing landslides and flooding in 11 states. The government reported 1,149 fatalities.
In 25 villages of Barpeta District in Assam, CASA's two-month programme through the ACT Alliance Rapid Response Fund has targeted 3500 flood affected persons. Dry rations help meet families' basic nourishment needs. People received rice, lentils, oil, turmeric powder, chilli powder and salt as well as tarpaulins and ground sheets.
Further to this, CASA extended support to around 1750 families in the flood affected districts of Madhubani in Bihar, Sanghli and Kolhapur in Maharashtra as well as Malapuram and Pathanamthitta in Kerala through its partners.
[1] Name changed for her safety