Related to building trust and ACT governance, including strategic collaboration as part of the wider ecumenical movement and learning with other forums
The interested WCC members in the country are being assisted in its application to become a member of ACT whenever possible.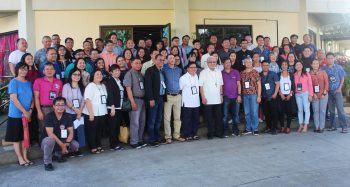 Active engagement in regional and global initiatives, with a clear division of roles and how to support: World Humanitarian Summit, Ecumenical Strategic Forum on Ecumenical Diakonia, CoPs – Climate Change and CBPS; Child Safeguarding Training, Roll out of the humanitarian mechanism. The ACT Forum also nominates their representatives to different regional and global meetings and activities. All out-of-the-country activities are properly echoed with other Forum members by the nominated representative through various means such as reporting & workshop, while other concerns were addressed in regular Forum meetings.
Invited both regional representatives to the Philippines to establish relationships and strengthen coordination with the regional office (2016), where the regional representatives presented the updates regarding the restructuring of the ACT Alliance, and other regional focus. The Forum convenor attended the Asia-Pacific Forum meeting (2017), and ACT Forum members contributed to the global sharing on Ecumenical Diakonia and how it is concretized in the Philippines (2017). Over all, there is a culture of supporting each other; complementing rather than competing; openness and transparency; appreciating what each one brings to the table.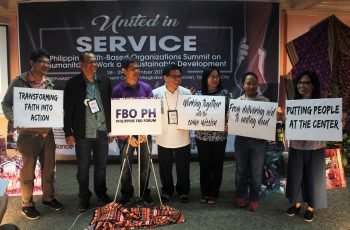 ACT Forum piloted a Core Humanitarian Standards Training-Workshop (2016) opened to WCC members and other local faith-based humanitarian groups to influence quality and accountability in the FBOs' humanitarian work. The ACT Forum has a pool of trainers who facilitated the 2-day event. Aside from this joint venture, the Forum shares each capacity building activities with other ACT Forum members such as ACT Security Training, CBPS, CHS & SPHERE Standards, Complaints Response Mechanism, and others. (Capacity development)
Understanding the faith-based dimension of humanitarian work in the country from the keynote speeches of the Protestants (NCCP) and Catholics (Catholic Bishop's Conference in the Philippines) shared during our pre- and post-WHS for a together with WCC members, and other FBOs in the country. In all its undertaking, the Forum brings the spirit of putting people at the center as the heart of its humanitarian work.
Practise/ Policy (innovative, replicable): Building trust by purposively deepening understanding of Faith-based Emergency Response and Ecumenical Diakonia amongst ACT and FBOs
Results:
ACT recognized for initiating conversations and coordination amongst FBOs (Visibility)
Formation of Philippine FBO Forum (FBO PH) that brings together the 3 largest national Christian networks

Joint learning sessions that enhanced understanding of faith-based dimension of humanitarian work; partnership established at the national level together with other non-Christian religion
Coordination of FBO's response in Marawi siege
Engagement of FBO PH with United Nations Office for the Coordination of Humanitarian Affairs, push for more representatives of national networks in Humanitarian Country Team; reaching out to United Nations Development Program

Contributes to ACT WHS commitment
Annexes:
About_Transforming faith into action
About_FBOs working together for Marawi